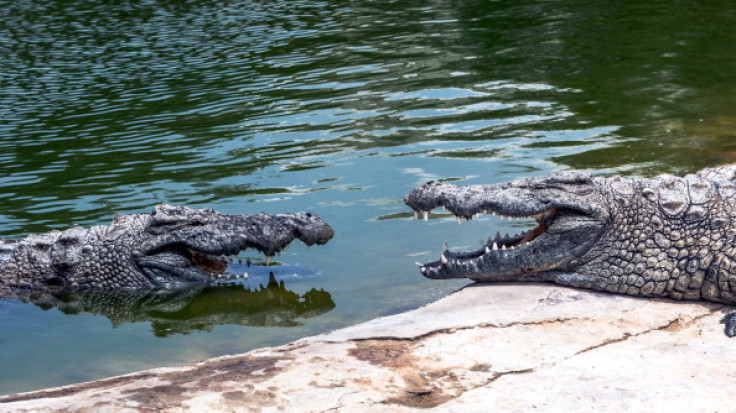 A 72-year-old tried to fend off crocodiles by throwing spanners and spark plugs at them in a bid to save his friend from drowning after a crocodile capsized their boat in northern Australia.
However, Robert Haughton's attempts went in vain as his friend Noel Ramage eventually drowned, the Herald Sun reported. The men were hunting for mud crabs near Gunn Point in Darwin when the fateful incident took place.
In a three-hour ordeal, Haughton managed to get back onto the boat and push it into the mangroves at a safe location away from the crocodiles. His friend, however, could not. He was then rescued by three professional crab hunters, who took him and his deceased friend's body to a nearby boat ramp.
Haughton reportedly told his rescuers that he was stuck waist-deep in the mud while trying to reach the shore, a CareFlight spokesman was quoted as saying. "He managed to get [the boat] near mangroves and got sort of stuck in mud up to his waist and then the crocs started turning up and appearing and he had three or four around him at any one time."
His shouts were heard by the three professional crabbers who then rescued him from the crocodile attack. He was taken to Leaders Creek boat ramp, where he was treated for shock and then flown to Darwin by a CareFlight TIO Rescue Helicopter.
As for his friend, he was pronounced dead by paramedics, who were called to the site near the Leaders Creek boat ramp. "He had been submerged in the water for some time and was deceased on arrival," St John's Ambulance spokesman Craig Garraway was quoted as saying about Ramage.
Ramage was reportedly battling cancer. In a tribute posted for him by his friends at the Kangaroo Flat Rotary Club, they said Ramage was very helpful and supportive and did a lot for the community. "Noel was fighting cancer at the time of his passing but if you didn't know, there would be no outward signs of his struggle," the post read.