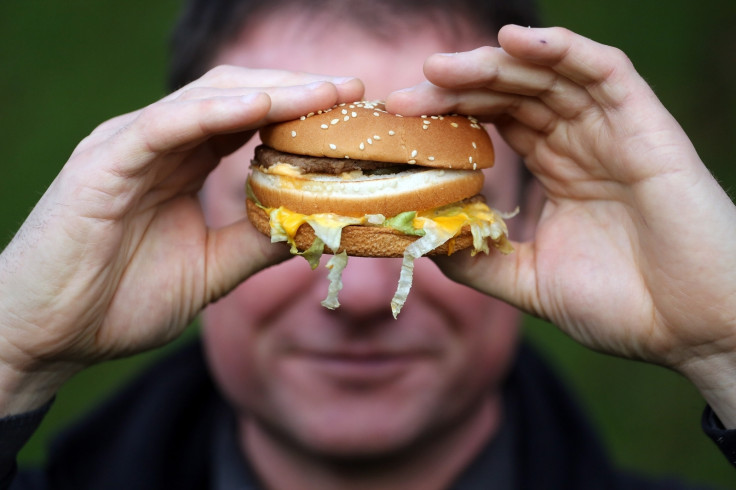 Boston man Nick Roberts wanted to surprise his pregnant girlfriend with a special gift and he found a hilarious way to do it. The 25-year-old teamed up with his friend, photographer Stephen Cwiok, for a not-so-traditional maternity photo shoot.
Roberts flaunted his fast food baby bump in the maternity photos, which he shared on his official Facebook page and urged everyone to share the album so that the world may see the wonders of a pregnant father.
Aping poses that commonly feature in maternity photo shoots, Roberts is seen cradling his exposed belly in one of the images. In another, he is seen holding a drink and a burger from McDonald's and proudly showing off his bump in a white shirt.
The Boston man said in the post that his photographer friend came up with the idea of the maternity album featuring him. "I felt it was only right to at least try to look a little pregnant, so we grabbed some McDonald's and off we were. If I'm being completely honest, the setting, the occasion, the awful cramps from the double cheeseburgers, it all brought me so much closer to the pregnancy," the post read.
"Now, I'll never know what being in labor feels like, but i feel in my heart it can't be too far away from eating A LOT of fast food. I'm truly blessed to have had this eye-opening experience. #theresbeautyinallofus #livelaughlove #fitfam" he wrote.
The post has received more than 131k likes and 90, 209 shares on the social media platform and the photos have gone viral.
Cwiok, in an interview with People Magazine, admitted that capturing those pictures were tough because of all the laughs that came with each of the poses. He told the outlet, "I don't know if I've ever laughed harder than when I was shooting those photos. Nick is a good buddy of mine and he absolutely nailed the model face and it was killing me all the way through."
Roberts revealed how he came up with the fast food belly idea. He explained, "When I eat a lot I have a strange talent where I can stick my stomach out really far and it looks like I'm pregnant. I told Stephen, 'Listen, we have to go to McDonald's so I can eat and it'll look like I'm more pregnant.'"
Cwiok said that they sneakily put the photo album down on a table at the gender reveal party back in June and "it was a huge hit". Roberts also revealed that his girlfriend wasn't too upset with the jokesters.
Roberts said, "At first she was kind of confused, then she came over to us and went, 'What is this?'We told her what we did and she thought it was hilarious."
The new-dad is currently enjoying his time with son, 1-month-old Logan, but plans to show him the photos when he is older. "It's the best thing I've ever done. At first we were nervous, as any parent would be, but once he came —I'm ready to just do it over and over again," he said of the maternity shoot.
"He's the love of my life. I love him. He's the best," he added of his son.