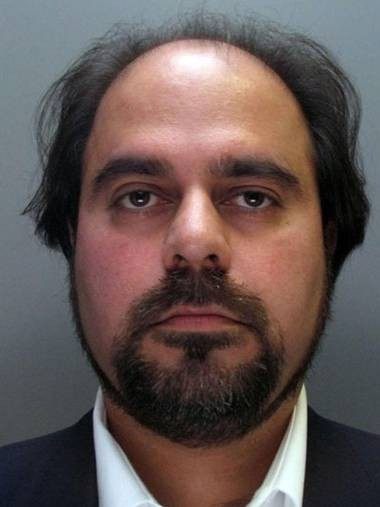 Bent businessman Kautilya Nandan Pruthi has been jailed for 14 years and six months after ripping off hundreds of people in a £115m scam.
In Britiain's largest "Ponzi" pyramid scheme fraud, Pruthi duped celebrities, authorities and a further 800 people out of an average of £140,000 each.
Pruthi and his associates John Anderson and Kenneth Peacock - who were each sentenced to 18 months - were dubbed professional fraudsters at Southwark crown court.
Pruthi also faces deportation to him home country of India.
Ex-cricketer Darren Gough and singer Jerome Flynn were two of the highest-profile celebrities duped in the scam.
Judge Michael Gledhill QC, sentencing, said: "You are an extremely intelligent, articulate, sophisticated and plausible liar. In short, a professional fraudster.
"You set up and masterminded what may well be the largest and longest-running Ponzi fraud to come before the courts in this country.
"They trusted you completely, as did everybody else that came into your orbit. They believed every false representation you made about your scheme - why [otherwise] would they have invested and then encouraged family and friends to give you their money?"
Police have said that the playboy lifestyle that Pruthi led meant that only as £2 million could be repaid.
He spent millions of pounds on sports cars, private jets and womanising in the five years since his scheme was launched.
Det Supt Benjamin Flannaghan said: "You could tell he was an extravagant man just by looking at his dress sense.
"He always wore a cravat and only wore brightly coloured clothes and suits.
"He had a shock of long, dark hair which was heavily receding. His own defence counsel said in court that he was 'mesmeric'.
"There is not a continent that is not touched by [the scheme]. It was sold to people as a private limited scheme to friends and families. It was anything but."
Ponzi frauds have been around for nearly a century and are named after Italian cheat Charles Ponzi. They generally involve paying money into an alleged get-rich-quick scheme but the money is not invested. Instead, profits are paid out to early investors from by money put in by later investors in a sort of financial pyramid with the people at the top feeding off the people at the bottom.