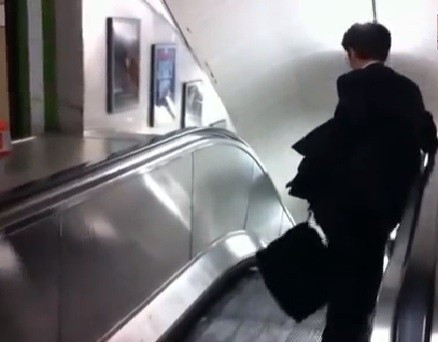 A man has been strangled to death after he slipped and caught his shirt in a railway station escalator.
Maurecio Bell, 42, landed on his back on the walkway in Benaroya Hall Metro Station, near Seattle in the United States of America.
CCTV footage shows him staggering and leaning against it just before falling. He was carrying an open bottle of brandy in his back pocket.
After falling, he did not immediately try to rise, and his shirt got caught in the escalator. He then attempted to sit up, but was pulled back down shortly after stopped moving, reports the Seattle Times.
A passer-by found his body at about 5.30am, stopped the machine and tried to resuscitate the man, but it was too late.
"It's an unfortunate and tragic accident, and we've never seen anything like it before," said King County Metro spokesman Jeff Switzer.
The Washington Department of Labor & Industries is investigating how Bell's clothes got caught in the escalator. It will remain closed until further notice.