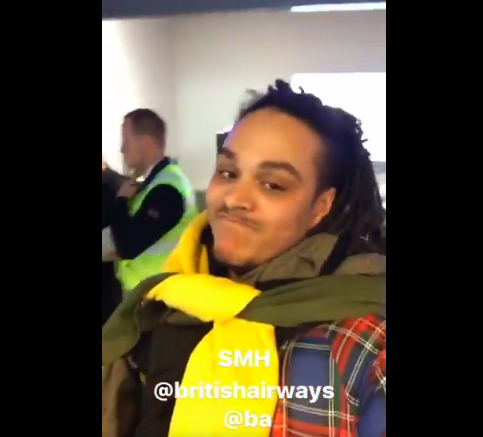 A man was barred from boarding two flights home to London after wearing eight pairs of trousers and 10 shirts.
Ryan Carney Williams, who goes by the name Ryan Hawaii, was first banned from boarding a British Airways plane at Keflavik Airport in Iceland. In an apparent attempt to avoid an excess baggage charge, Williams wore all his clothes. He later tweeted that he could not afford the £90 fee.
Reports say he was denied entry to the plane and was later arrested for causing a disruption. The following day, Williams said he was banned from boarding an easyJet flight after the airline heard about his behaviour.
British Airways said the artist and clothing designer from south London was barred entry to his original flight when he attempted to board with an oversized bag. Williams reportedly paid a hand baggage only fare which meant he could only bring a small bag on the flight.
In a bid to avoid paying excess fees, Williams put on all his extra clothing and again attempted to board the flight. He was refused entry a second time, prompting the dispute to escalate when he confronted security staff.
Williams posted two videos on Twitter in which he is heard asking employees why he is not being allowed to board the plane. Two security guards wearing high-vis jackets approach Williams as he asks: "Why can't I get on this flight?"
An airline staffer responds: "Do we need to call the police?"
Williams also tweeted: "Being held at Iceland Keflavik airport because I had no baggage put all the clothes on and they still won't let me on. Racial profiling? Or . . ."
Local news service Mbl reported that police were called to intervene. A spokesman said that the airline arranged an alternative flight to London for Williams.
After being questioned, Williams was sent back to the airport, where he booked a second flight home with easyJet. Following a two hour delay at the gate, Williams said he was again barred from boarding after the pilot heard about his behaviour the previous day.
"And again! Refused from two flights in two days for no valid reason," he posted on Twitter.
In a statement, a spokeswoman for British Airways said: "We give our customers a wide range of fares to choose from to meet their needs.
"Our hand baggage only fares from Iceland are as low as £47 each way and are designed for customers who are travelling without any hold baggage.
"We do understand that our customers' plans can change so they can choose to pay a fee at the airport if they need an extra bag.
"We explained our policy to our customer and arranged an alternative flight to London."
An easyJet spokesman said: "The captain and the ground crew were concerned about reports from the previous day so we provided a refund and he travelled with another airline."