Peter Nunn, the "troll" accused of sending a number of offensive and threatening tweets to women including Labour MP Stella Creasy, has been found guilty of "sending indecent, obscene or menacing messages."
In tweets to Ms Creasy - who had backed a campaign to have Jane Austin's picture put on the £10 bank note - the father-of-one threatened to sexually assault the MP.
One said: "Best way to rape a witch, try and drown her first then just when she's gagging for air that's when you enter."
Asked at City of London Magistrates Court why he posted the messages the 33-year-old delivery driver said they were "satirical".
"The whole witch thing is obviously satirical, it is not cynical like the CPS (Crown Prosecution Service) are claiming. I don't see that message as being menacing or offensive. It is just humour, nothing more than that."
Nunn said he sent the rape threat as a form of support for Ms Creasy, and said that threats to rape another campaigner - Caroline Criado-Perez - should be taken by the feminist as a compliment.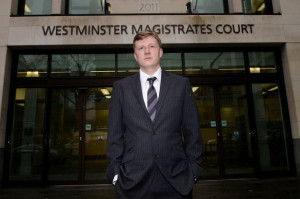 "I realise now that rape threats aren't a compliment," he told court. "I said you could take it as a compliment you are beautiful."
Nunn, from Emersons Green, Bristol, was arrested at his home when Ms Creasy and Ms Perez complained to police. "I never wanted to offend anyone. I wouldn't dream that Caroline or Stella would be offended by these messages. They are satire."
Judge Elizabeth Roscoe said: "I can't see that this is anything other than grossly offensive and menacing. I am told that a lot of people joke about rape. I don't know if I'm sure that this is a common form of humour in any form of media."
Last year two other trolls who were found guilty of sending Ms Creasy abusive tweets were jailed. Nunn will be sentenced on 29 September. Prosecutors will also apply for a restraining order to prevent him contacting the MP.
After the guilty verdict was announced Ms Creasy tweeted: "Now twitter troll trial over message simple- a threat is a threat, whether is it made on paper, in pixels or in person. #noshittakingmp."