A rumbling volcano on the Pacific nation of Vanuatu has forced the unprecedented evacuation of an entire island.
All 11,000 residents of Ambae were ordered to leave after authorities declared an emergency following an increase in the volcano's activity, raising fears of a large-scale eruption.
The Manaro Voui volcano began spewing ash over the weekend, prompting experts to raise the activity measure of the volcano to level 4, with level 5 representing a major eruption.
Geological experts warned of "flying rocks and volcanic gas", acid rain, and ash falls. A New Zealand military plane flew over the volcano earlier this week, and reported huge columns of smoke, ash and volcanic rocks billowing from the crater.
Government officials had already moved 6,000 residents to schools and community halls on the island's less vulnerable eastern and western regions earlier this week.
But now it has ordered a full-scale evacuation to be completed next Friday (6 October).
In a $1.9m effort the Vanuatu government is sending a series of ships to take people off the island and deploying 60 police officers to help people leave and ensure against looting.
Evacuees are being housed on the nearby island of Pentecost in government buildings or in temporary camp sites.
"People are quite afraid with the sound of rumbling going on. They are very uncertain and afraid", Vanuatu Red Cross spokesman Dickinson Tevi told the Chicago Tribune.
The move comes after authorities in Bali warned of a potentially imminent eruption of its highest volcano on Mount Agung, forcing more than 75,000 people from their homes.
Vanuatu, a South Pacific Ocean nation made up of roughly 80 islands, is home to about 280,000 people.
Indonesia and Vanuatu sit on the geologically active Pacific Ring of Fire, a horseshoe shaped area around the edges of the Pacific Ocean, from Australia to the Andes, where a large number of earthquakes and volcanic eruptions occur.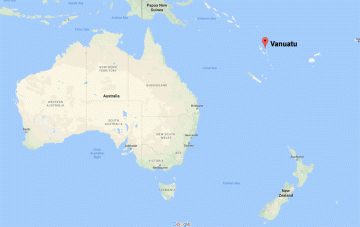 The remote village of Yaohnanen, on the Vanuatu island of Tanna has a unique weather-based connection with Britain's Duke of Edinburgh.
Some of the villagers worship Prince Philip saying he is descended from one of their spirit ancestors and believing he can cause cyclones and rises in volcanic activity.
The villagers of Yaohnanen have decorated a shrine with framed portraits of Prince Philip draped with the Union Flag.
The cult – called the Prince Philip Movement – is believed to date from 1974, when the consort and the Queen visited Vanuatu on the Royal yacht Britannia.