Boston handyman Lee Chandler (Casey Affleck) doesn't have all that much going for him. He rents a dingy one-room apartment in the building where he works, spends his days conversing with awkward tenants and his evenings getting into drunken brawls in bars.
But his life faces a dramatic change when he is drafted back to his hometown of Manchester-by-the-Sea after his older brother Joe (Kyle Chandler) passes away and he assumes guardianship of his teenage nephew Patrick (Lucas Hedges). Unfortunately for Lee, returning to his former neighbourhood and adopting a father-like role proves difficult too, due to personal demons and even more tragic memories from his old life there.
Our verdict
Despite penning screenplays to known films such as Analyze This and Gangs Of New York, it seems fair to assume that writer-director Kenneth Lonergan isn't necessarily a household name. While the reasons for that fact remain unclear, one thing's for certain, Manchester By The Sea is the film that packs enough wallop to force movie fans, and cinema-goers in general, to sit up and take serious notice.
Having helmed indie dramas before, this feels like his most accomplished piece to date, as in every moment in Manchester By The Sea manages to make you feel something, be it uplifted, tearful or emotionally crushed. But as much as that is down to Lonergan's cleverly constructed, non-linear script, a lot of its brilliance is thanks to its cast.
Affleck offers up a career-best performance, proving once-and-for-all why he's worthy of his own limelight, separate from his recognisable brother. His lines are few and far between, resulting in him being more of a reactive character rather than a typical lead. But his piercingly blue, intense eyes and natural charm often transforms flat, closed-off Lee into a visibly broken man just trying his best to get by. It's truly heartbreaking and stunning work.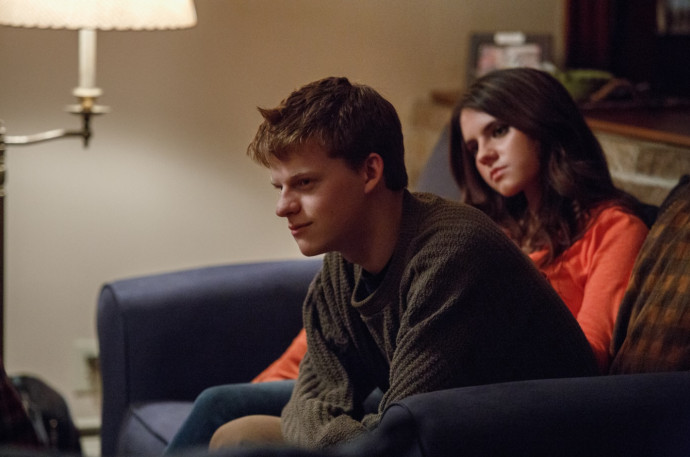 Williams is just as good yet, however, warrants only a fraction of the screen time. Popping up mostly in flashbacks – as part of Lee's backstory – despite adding both warmth and depth, the character unexpectedly leads you to a harrowing scene that will floor you.
You can understand why she doesn't feature much though. So much of the movie centres on how well Lee copes with circumstances that are sprung on him after Joe dies. If he wasn't so solitary, it's arguable that the audience would start to misplace their focus, something that is essential to the film's impact.
Aside from Lee, the film spends the most time with Patrick, played by talented newcomer Hedges. Like his uncle, Patrick struggles to deal with the sudden changes to his life and keeps his emotions buried deep, distracting himself with other outlets such as his rock band, his boat and his two girlfriends. Inevitably, there are moments where he does break, which due to his usual stoicism are tough to watch but ultimately adds to the weight of the picture.
Levity comes in the pair's awkward double act. It's clear these characters used to be close – you learn that from the flashbacks - but they've been forced to learn the ropes with one another again and often don't see eye-to-eye making for some of the film's best sequences. Patrick enables Lee to open up a little more and Affleck and Hedges' chemistry sells it.
The austere cinematography inadvertently adds to the urgent, emotive quality and strengthens the film's ability to draw a viewer in. As in Martha Marcy May Marlene, cinematographer Jody Lee Lipes mixes stark, washed-out shots with closer, soft frames dependent on the scene, giving them an incredible sense of realism.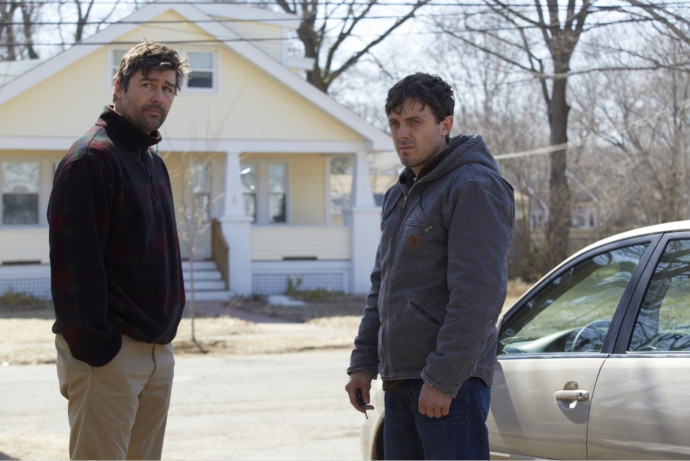 The film's location being a wintry fishing town is duly effective. As characters converse on snow-dusted boats, piers and seafronts in general, Lipes often uses vast backdrops of the sea to evoke loneliness and the feeling of being adrift.
Then again, the water can often be a place of solace for many people... But this idea – that the same visuals can be interpreted differently – sums up exactly what Manchester By The Sea is all about. The film is not interested in a glossy happy ending, that would be almost crass, but nor is it afraid to interject some killer humour either.
Presenting a truthful depiction of an array of reactions to grief and other circumstances was clearly Lonergan's game-plan from the get-go and makes for a poignant and powerful character study rather than, what so easily could have been, a manipulative, sensationalised drama. For every tearjerker moment that literally makes your heart sting, there's a scene which will see a smile creep up on your face and that's where the film's beauty lies.
This is isn't a film that wallows in its sorrows but rather makes careful and considered steps around such themes in favour of serious emotional impact. It's wonderfully understated in its approach, stripping so much back that it feels almost vulnerable and moreover, accessibly authentic. Yet it is also courageous in its story-telling and the pay out for the viewer is tenfold.
In a time when movies are so much about spectacle, Manchester By The Sea demonstrates that films need nothing of the sort to be both memorable and moving. It might well be a movie about love, loss and grief but to summarise it merely as such would not do it justice.