The first trailer for upcoming HBO documentary Bright Lights: Starring Carrie Fisher and Debbie Reynolds has made its way online. It's so poignant and sorrowfully sweet to watch given the recent circumstances we defy anyone not to be moved by the two-minute clip of a witty mother and daughter navigating not only their own, sometimes complicated relationship, but also lasting fame and growing older.
Star Wars icon Fisher, 60, passed away on 27 December after suffering a heart attack during a flight from London to Los Angeles four days earlier. The following day, Reynolds – star of beloved classics such as The Unsinkable Molly Brown and Singin' In The Rain – died from a possible stroke.
The documentary promises to be "an intimate portrait of Hollywood royalty in all its eccentricity" using archived family videos and photographs as well as new interviews. Judging by the clip, it looks to be just those things too, delving into Reynolds' beginnings as a household name and entertainer at just 20 years old as well as Fisher's career and struggles with manic depression.
Directed by Alexis Bloom and Fisher Stevens, the 95-minute documentary was filmed over the course of several months, leading right up to Reynolds preparing to receive her Screen Actors Guild Life Achievement Award — which Fisher presented to her. It was initially going to air in March 2017 but was brought forward to 7 January due to the tragic events in December.
"At the one end of the family compound in Beverly Hills lived Debbie Reynolds, with Dorothy's red slippers from The Wizard of Oz on the mantelpiece,"Stevens and Bloom told PEOPLE. "Adjacent was Princess Leia, in a house where Bette Davis once lived. You don't get more Hollywood royalty than that. Storytelling magic lived around them... They had what Carrie called 'rampant empathy' for each other."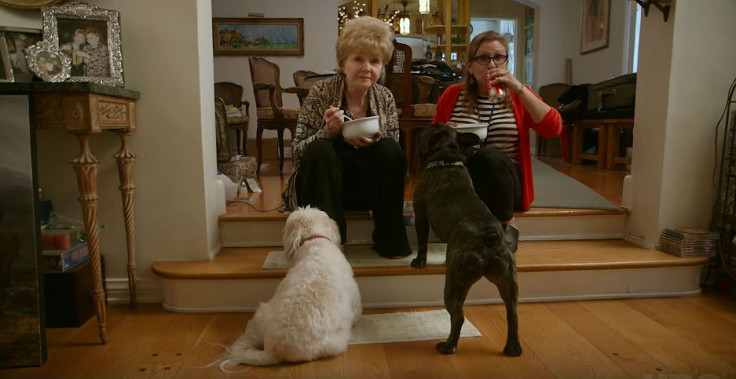 "We started out making a film about Hollywood royalty," they concluded. "And we ended up making a film about love."
The film first premiered at last year's Cannes Film Festival and continued on to be screened at Telluride, New York Film Festival and the AFI Fest. Since then, it has received overwhelmingly positive reviews, with Screen International describing it as a "touching love story with each other, the past, and the camera" and Nerdist urging that "there are worse ways to spend 95 minutes than in the company of two people you like, admire, and are enduringly charmed by."