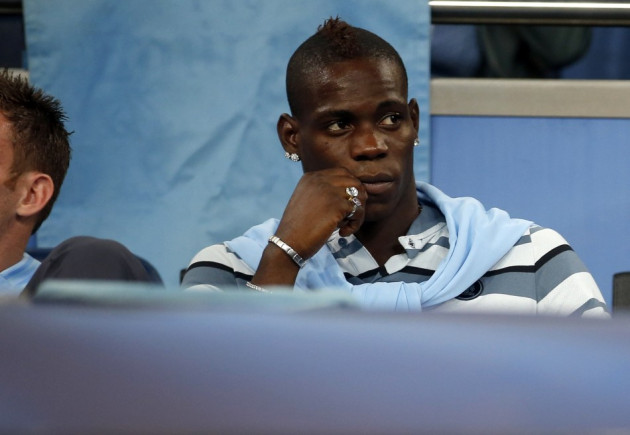 The often controversial Italian striker and the 47 year old former Lazio boss were seen having an incident at the end of the Premier League match against Arsenal at the Etihad, which finished 1-1.
"I don't remember anything with Mario," Mancini claimed after the match, adding, "It's possible I did (push him). I don't remember if he asked me something but it's not important. Mario may think it was important. Was it because he wasn't playing and came on late? Probably, probably, I don't know. Tomorrow I will ask him."
The high-profile clash between the English champions and the Gunners was all it was billed as, with exciting end-to-end football and an in-form Arsenal side seriously worrying the champions in their backyard. Indeed, at times it seemed Arsene Wenger's side were the title winners last season and Aaron Ramsey's slide pass through to Gervinho, down City's left flank, was the perfect illustration of the composure with which they played.
Balotelli started on the bench for this game (as did Carlos Tevez), with Sergio Agüero and Edin Dzeko the preferred partnership up front. The 21 year old former Inter Milan forward did come on in the second half, albeit with only five minutes remaining. That, in addition, to his not even being in the match squad for the match against Real Madrid (even though he was fit after his eye surgery and had travelled to Spain with the team) may have been why things got a little heated in the tunnel after the Arsenal game.
Meanwhile, Mancini has admitted he is a little worried at his club's habit of throwing away leads.
"I'm very sorry today for the players because it was difficult after Madrid but I'm worried because we conceded a goal. We need to improve and we need to work. In the last four games we've conceded three goals from set-pieces. This can't happen. I'm frustrated but the players are frustrated about this. If you want to win, clean sheets are important," he explained after the match.
The draw leaves City in seventh place in the league, with nine points from five games and four behind leaders Chelsea. The Gunners, meanwhile, move up to fifth place and lead Fulham and City by goal difference.
Wenger's side will now enjoy what should be an easier game, at home to Coventry City in the Carling Cup, before hosting Chelsea in another potential thriller. City will host Aston Villa in the Cup and then travel to Fulham for a league clash.