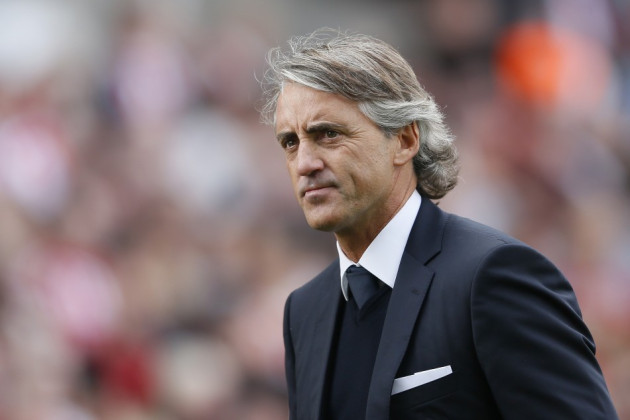 Premier League champions Manchester City face Fulham at Craven Cottage looking for redemption after a crushing 2-4 home defeat to Aston Villa. Roberto Mancini's side were unceremoniously dumped out of the Capital One Cup after Gabriel Agbonlahor and Charles N'Zogbia struck extra-time goals.
City have had a less than impressive start to the new season and questions have been raised over the team's mental strength and defensive capabilities. The reigning champions are yet to keep a clean sheet in competitive fixtures this season, having conceded 16 goals in eight games. However, Mancini has defied critics and naysayers, claiming City will emerge to retain the league title.
"It is more difficult in the second year, but we will win the title," the former Inter Milan manager said, adding, "There are some moments where maybe you don't play well, the other team plays better than you or you are unlucky. This is one of those moments. You need only to stay calm and work hard."
His words, while encouraging to City fans, mask genuine defensive frailties in the first team. It is one thing to have to work hard to win games... that is expected of championship-winning sides. However, the problem is the side has dropped points, in Europe and in the league, after losing from winning positions. They were up 2-1 at the Santiago Bernabeu, against a clearly under-par Real Madrid, before Karim Benzema and Cristiano Ronaldo scored in the final ten minutes. Similarly, they were leading Arsenal 1-0 at home until centre back Laurent Koscielny popped up to equalise in the 82nd minute.
Mancini has pointed to the summer's European Championships and late signings (right back Maicon and central defender Matija Nastasic arrived only on deadline day) as reasons for City's defensive issues. Whatever the problem is, though, it has to be sorted out soon. City are already four points adrift of Chelsea.
Meanwhile, the good news ahead of the Fulham game is that French midfielder Samir Nasri could be back in action. The former Arsenal player went off injured during the Madrid game but has recovered sufficiently to be considered for this game. Jack Rodwell, Micah Richards and Maicon will miss the game through injury.