Manchester City News: Carlos Tevez Faces British Record Fine After Munich Outburst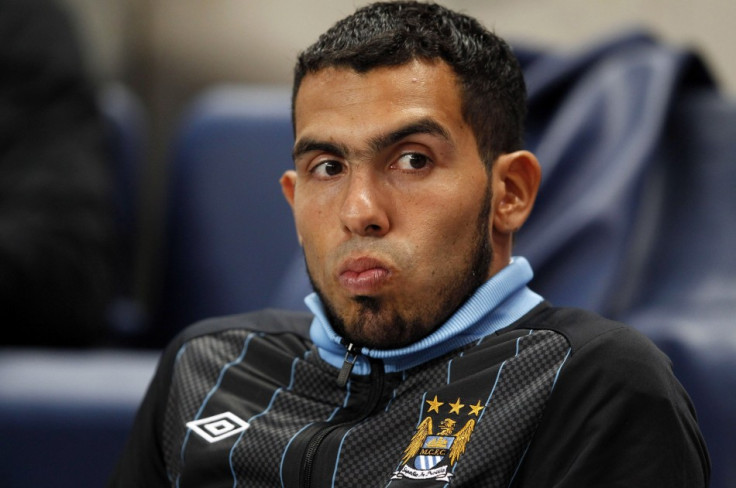 Manchester City striker Carlos Tevez could face a six-week suspension and a £1.5m fine after supposedly refusing to play in the 2-0 defeat by Bayern Munich last month.
City launched an internal investigation and suspended their former captain after he appeared to refuse to come on as a substitute in Munich. Tevez continues to claim he has been the victim of a misunderstanding and says he merely refused to warm up.
"There is a case for Carlos Tevez to answer of alleged breaches of contract," a club statement said."He will face disciplinary proceedings. The hearing will be convened shortly. Carlos will be required to report for training on Thursday."
Following the two-week inquiry, City officials have informed Tevez he must attend a disciplinary hearing for 'breaches of contract', with a British record fine in the region of £1.5m and a suspension of between four and six weeks the likely outcome.
However, Tevez is set to return to Eastlands Thursday demanding an apology from Roberto Mancini as he continues to claim that at no time did he refuse to play.
Tevez is expected to appeal any decision handed down by the City board and, if that fails, he could take his case to the Premier League.
The 27-year-old has already served a two-week suspension, the maximum allowed under current regulations. Should City hand down an additional ban they must first seek permission from the Professional Footballers' Association (PFA).
PFA chief executive Gordon Taylor told BBC Sport: "Manchester City have conducted things in a proper manner and they feel the evidence, as far as I am aware of, justifies a charge.
"There are a number of options to consider but ideally I would like a situation where both parties can walk away from it.
"The most extreme option could be termination if the evidence justifies that or it could be a suspension without pay, or a fine. That fine could be anything from two weeks up to six weeks, with the approval of the PFA."
© Copyright IBTimes 2023. All rights reserved.