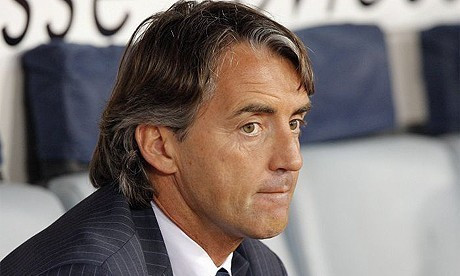 As the Champions League group game fixtures near, Manchester City boss Roberto Mancini says that even if City miss on the prestigious trophy this season he is confident that his team will claim the European title in the near future.
"If you drive a Ferrari you can win, if you drive a Fiat Cinquecento, probably not. In the past we have been working for this. I think we beat good teams but we have played together for two years and we needed time. I am sure we will arrive to win this trophy in the future. I do not know when, but I am sure because we are working for this. If we want to improve every year it is possible," ESPN quoted Mancini as saying.
City were not able to reach the knock out stages of the competition following poor results against Bayern Munich, Napoli and Villarreal last season. Although the Citizens face a tougher challenge after being placed alongside Dutch champions Ajax and German league winners Borussia Dortmund and La Liga victors Real Madrid, Mancini feels that City will give a tough competition this season.
"I think it was a good experience last year - we did a good group but it was not enough. I think the group will be stronger this year but it will be difficult for all the teams. I think it is important now that we go to the second stage. After February anything can happen, but now it is difficult to say what we can do," he added.
This time, the 47-year-old Italian boss is being careful right from the start as he has already exchanged mind games with Real Madrid boss Jose Mourinho ahead of City's first group game against the Spanish giants at the Santiago Bernabéu. However, Mancini claims he does not know the "special one" very well.
"We don't have a personal relationship. I met him two times for Porto against Lazio and I met him in Milan but I have only met him four or five times. I know him as a manager," he added.
Nevertheless, despite his mind games with Mourinho, Mancini feels that "the most important thing will be the fantastic players on the pitch."