Manchester City have been boosted in their hopes of signing Brazilian midfielder Fernandinho who has pleaded with Shakhtar Donetsk to be reasonable when it comes to negotiations over a possible transfer.
The 28 year old has previously stated his desire to leave the Ukrainian club but is worried that they will hold out for the full £42.5million that they inserted in his contract as a release clause.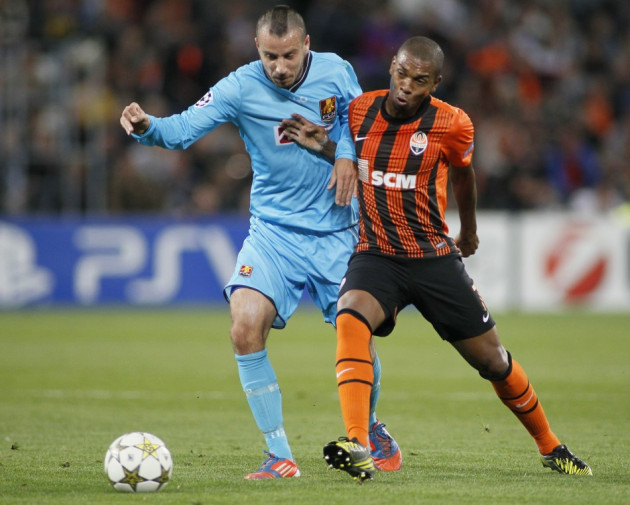 According to a report in the Daily Mail, Fernandinho is keen to join Manchester City in order to try and prove to the Brazilian management that he is worthy of a place in the squad for the 2014 World Cup.
"The day I signed, the club's director guaranteed me that was normal with his players. And that in a transfer, we could negotiate and reach an agreement on the price," said Fernandinho, as quoted in the Daily Mail.
"I trusted them, and I didn't think about the consequences it would bring me in the future. My dream is being threatened because of the high valuation."
Manchester City are believed to be interested in recruiting the midfielder who has been instrumental in helping Shakhtar win five league titles and the UEFA Cup since he arrived in the summer of 2005.
Despite success with his club he has been largely overlooked by a number of Brazil managers and he has made just five appearances since his debut which came all the way back in November 2006.
Fernandinho has repeatedly impressed while playing in the Champions League, scoring against Chelsea in the group stages earlier this season, and just last month admitted that he wanted to join Manchester City.
"They [my international team-mates] all wish me to move on," declared the midfielder. "They know that the Premier League is a great championship and that Manchester City is a great club, therefore they all wish me to play there, and to participate in the division."
"I believe my chances of making the World Cup squad will improve if I join City. My exposure would be better, because Brazil is biased towards the Ukrainian league. What we do here is not recognised in my country.
"Therefore, playing in a division, at a club that is considered among the best in the world, and if I keep performing well, that would help me to be to be taken back to the Brazilian national team."
While Manchester City are without a manager, having dismissed Roberto Mancini, it is expected that the club will push forward with their transfer activity with sporting director Txiki Begiristain having a major say on who arrives.