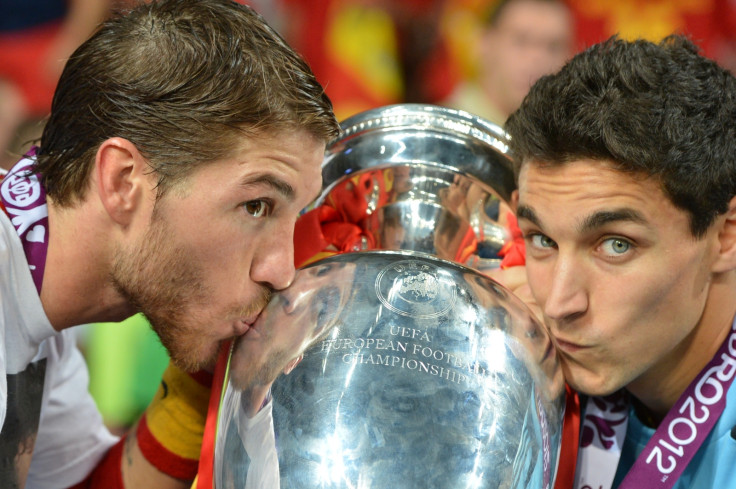 Manchester City star Jesus Navas would not oppose Sergio Ramos's potential summer move to Manchester United, although he has said he believes Ramos's future is at Real Madrid.
Spanish newspaper AS recently reported that the Spanish centre-back is likely to move to Old Trafford, with Louis van Gaal preparing a €60m (£41.9m, $65.1m) bid to convince Los Blancos to flog the defender.
The Dutch boss fuelled those speculations during a press conference on 21 July, saying Ramos may eventually join his side.
"I cannot talk about these rumours. I have said already it's a process and maybe Mr Ramos is in the process – you never know," the manager said as quoted by the Manchester United official website.
And Navas has now also addressed the rumours regarding his friend's future after Manchester City's pre-season penalty shootout win over Roma.
Having been friends ever since they met in the Sevilla academy, Ramos and Navas still enjoy a strong relationship and have played together in the national team a number of times.
When questioned as to whether he would rather his pal avoided City's crosstown rivals, he was quoted as saying by AS: ""All I want is the best for him. I want him to be happy wherever he is.
"Ramos is a fantastic teammate, a great footballer and I always wish him the best whatever he does. He is at a massive club and I don't know what will happen, I am only concerned with my own club. I haven't spoken to him lately, the last time I saw him was at a friend's wedding at the start of the summer".
Asked whether he had spoken with him about his potential move to Old Trafford, he added: "He doesn't talk to me about those kinds of things.
"We got together to enjoy oursleves during the holidays and I think he will be fully focused on Madrid, he's a great professional. Will be remain at Madrid for the next few years? I've no idea, that's something you have to ask him".