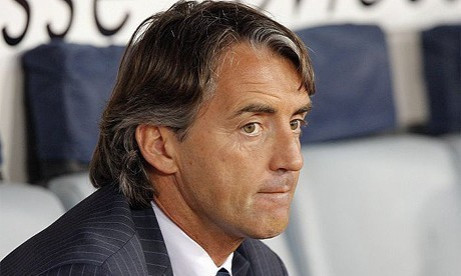 Manchester City coach Roberto Mancini has criticised match officials for allowing Peter Crouch's goal in the 1-1 draw with Stoke City.
The former Liverpool striker appeared to use his hand twice before scoring the opening goal of the Premier League clash between the two sides, and the Italian manager is incensed that referee Mark Clattenberg did not disallow the goal.
"That was not football, it was basketball. It is possible the referee didn't see it because he was behind him but it was incredible. I didn't see it clearly from the bench but I have seen replays afterwards and it is incredible that this wasn't seen," he told the club's official website.
The result means City remain in fourth place in the Premier League, with eight points from their opening four games. The defending champions are now two points behind early pace-setters Chelsea, who also drew, away to QPR, in a fiery London derby.
Mancini also spoke about recent results at the Britannia Stadium.
"It was difficult last year and the season before - it always is - but we have taken a point and it is over now. It is normal that top sides don't find it easy coming to Stoke and that isn't going to change this year. Maybe it is better both teams stay at home and take a point next time around and save everyone some money! Each time we have drawn 1-1 and then gone on to win a trophy so I hope it's the same again," the former Lazio boss said.
The silver lining for the Citizens was the performances of debutants Javi Garcia, Scott Sinclair and Maicon, with the Spanish midfielder drawing particular praise.
"Javi Garcia (who scored the equaliser, his first goal for the club) did a very good job and both Maicon and Scott Sinclair also gave a good performance. It was not easy for them because they don't know their team-mates very well at the moment but they should be pleased with their first 90 minutes," Mancini said.
Meanwhile, in news from the boardroom, City, who are being spoken to by UEFA over the governing body's concerns at the club's finances, are expected to cut their losses by £60m. The club posted an English record loss of £197m in the last financial year. A Goal.com report indicates the club could continue to reduce deficits by similar amounts, with the deficit expected to come as low as £80m by the end of 2013.
The revenue stream has reportedly been boosted by prize money from the league title won last season and income from playing in the Champions League. This is good news for a club, league and sport preparing for the introduction of Financial Fair Play (FFP) regulations from 2014.