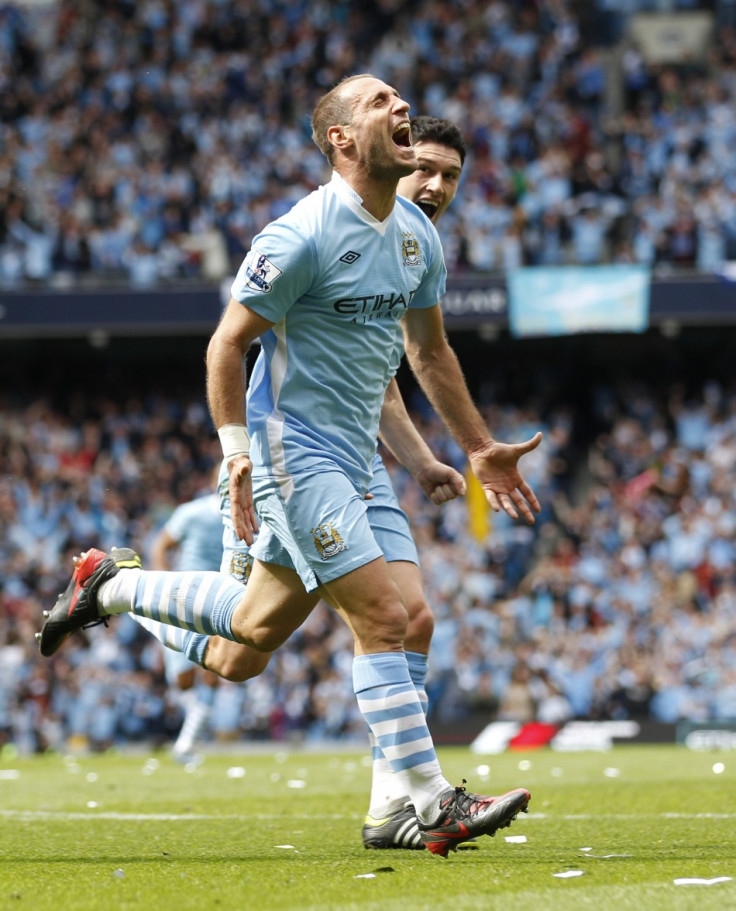 Barcelona will make a shock summer move for Manchester City defender Pablo Zabaleta, according to the Daily Mirror.
The report says that the Catalans find the 27-year-old as an ideal replacement for right-back Dani Alves, whose defensive displays last season were less than impressive. And with big-spenders Paris Saint Germain keen on the Brazilian, Barca might try to cash in on him soon.
Zabaleta had found it difficult to break into the City squad in the early part of the season but performed well in the latter stages and capped it with a goal in their thrilling 3-2 win over QPR in the last league game that decided the destination of the Premier League title.
The Spaniards are hopeful of landing Zabaleta on a cut-price £8 million deal and are also confident of convincing the Argentine to leave the Etihad Stadium as Micah Richards remains City's first choice right-back.
Zabaleta moved to Manchester in 2008 from Barca's derby rivals Espanyol and hence is already familiar with both La Liga and Catalonia.
Meanwhile, Parma playmaker Sebastian Giovinco's agent Andrea D'Amico has claimed that Barcelona have tabled an offer to sign his client this summer.
Giovinco, who notched up 15 goals and 11 assists in the Serie A last season, is co-owned by Juventus and has been linked with a move back to Turin. City, Real Madrid and Bundesliga champions Borussia Dortmund are also reportedly keeping tabs on the player known as "formica atomica" (atom ant) in Italy.
D'Amico said that the Catalans are one of the European giants who have sent offers for the 25-year-old, who can also operate as a forward, but insisted that the player's future will only be decided after Euro 2012.
"He will go to a club who will make him feel important and where he can have the chance to show his quality. He has received a lot of offers, from Italy and abroad, including a recent one from Barcelona," Goal.com quoted the agent as saying.
"At the age of 25, he is at his peak, right now the sporting project is more important than the salary. His future? It is too soon, it will be decided after the Euros," D'Amico added.
Meanwhile, Barcelona sporting director Andoni Zubizarreta is reportedly looking for cheaper targets as the club are shopping on a limited budget. And hence the Spaniards are also keeping tabs on Valencia wing-back Jordi Alba as there are doubts as to whether they can afford Tottenham's Gareth Bale.
Alba has been heavily linked with a move to Camp Nou for much of the season and now Catalan utility man Adriano has hinted at a potential move by stating that he would welcome the Valencia man to their ranks.
"I like Jordi Alba as a footballer. He can do a lot of damage when he goes up the field. If Barca sign him, he would be welcome," the Brazilian said.