Manchester Psycho Barry Edwards Tortured Girlfriend With Bat, Scalding Water and Blades for 9 Hours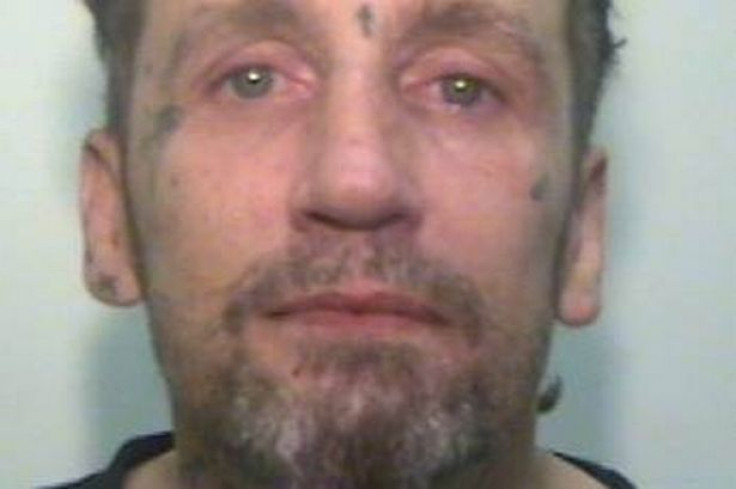 A Manchester man who once changed his name to "Naughty Rascal" has been jailed for 16 years for torturing his girlfriend with a baseball bat and razor blades and threatening to "break her f***ing spine".
Barry Edwards, 44, subjected his girlfriend to a nine hour beating that left her blood splattered across her Rochdale home's walls and the victim so traumatised she slashed her wrists in a suicide bid.
Manchester Minshull Street Crown Court heard Edwards shouted he would "break her f***ing spine" before the victim pleaded "Don't Baz, please don't, I don't want to die."
After neighbours raised the alarm, police found the woman, who was a teenager when she first met Edwards, who was 36, in May last year, had been slashed across the face with razor blades.
In a sadistic game, Edwards made her stand facing a wall, holding a piece of card against it with her nose only for him to inflict further beatings when it fell to the floor.
Edwards was arrested soon after police arrived at the home, after the woman had sustained a perforated lung during the fit of violence and was unable to walk, the Manchester Evening News reported.
Abusive Past
The victim initially told investigators her injuries were suffered at the hands of strangers, but she later recounted eight years of abuse she had suffered at Edwards' hands.
He had tried to gouge her eyeballs out with his thumbs, kicked her down the stairs and once threatened to throw electrical items into the bathtub while she was in it.
He had attacked her with a vegetable knife and killed their three pet cats during their relationship.
Such was the victim's fear of Edwards, she regularly soiled herself over the terror he inflicted upon her.
In a shocking act of violence and denigration, Edwards dragged the woman to an abandoned building site, before digging a hole and forcing his partner to climb in it.
The then piled bricks on top of her and urinated on the her head before fleeing the scene and leaving her for dead.
Hours later he changed his mind and removed her from the pit, kicking and beating her along the way home.
Previously, Edwards spent seven years behind bars for the incident.
'He Took Pleasure from Torturing Her'
Sentencing Edwards, Judge Mushtaq Khokar said he posed a significant risk of re-offending.
"I am not surprised she said she wanted to jump out of a window to end it all," he said.
"In both instances it was similar. There is a particular risk to females if they enter into a relationship with the defendant. In those circumstances I find that the defendant is dangerous."
Detective Constable Russ Clarke, of Greater Manchester Police, said: "This is one of the most horrendous incidents of domestic abuse I have ever dealt with, leaving the 25-year-old woman with terrible lifelong injuries.
"During the nine hour attack, she suffered a fractured rib, fractured finger, punctured lung as well as lacerations to her face and body and severely bruised legs.
"The attack was not only violent but degrading to the woman, which Edwards clearly enjoyed. He continuously made demands, instructing her to do things that made him feel powerful and simultaneously frightened her. He knew she would not be able to carry out what he asked and took pleasure from torturing her."
If you are in an abusive relationship or know someone that is you can seek by contacting the Women's Domestic Abuse Helpline on 0161 636 7525 or visit endthefear.co.uk
© Copyright IBTimes 2023. All rights reserved.