When Louis van Gaal was finally announced as the man to lead Manchester United from the debris of David Moyes' trainwreck of a season, there was a general assumption that Robin van Persie was going to be a primary beneficiary.
At the time, the former Arsenal striker was Van Gaal's captain for the Dutch national team, and in the build-up to this summer's World Cup, stories detailing the pair's special relationship were plastered everywhere. It was seemingly set in stone; Van Persie would be given the captain's armband and regain the form that saw him catapult United to the Premier League title in 2013.
But here we sit, twelve games into Van Gaal's debut season at the helm and something's amiss. You need only cast a glance at the weekend's 2-1 victory at the Emirates Stadium to catch a full glimpse of Van Persie's issues, with just 13 touches recorded before a second-half substitution for James Wilson.
He looks lost, missing the vital spark and confidence that typified his first season in a red shirt, and has only recorded three goals despite featuring in all but one of United's league games this season. At 31 years of age, has Van Persie's form deserted him permanently? Should a little more be expected from one of the continent's most deadly finishers?
In truth, rumours of his demise have been slightly exaggerated. Yes, the Dutchman has only recorded three goals in eleven games, but that still puts him second behind Wayne Rooney on four in the club's scoring stakes. None of United's attacking players have been able to settle into a consistent rhythm this season, with Rooney suspended for three games, Angel Di Maria stuttering out wide and Juan Mata struggling to nail down a starting berth.
Radamel Falcao's injuries have made Van Persie a sure starter so far this season, but that's not necessarily been in the striker's best interests. Given the varying availability of United's other strikers, he has had to play a substantial amount of football so far this season, more than Van Gaal would have presumably liked.
Having returned to Carrington later than any other United player due to his exertions in Brazil, the lack of pre-season training appears to have taken its toll. At 31, and having dealt with a host of injuries during his career, such things are essential in order to build up confidence and stamina. Van Persie, for want of a better word, looks tired, and needs a break.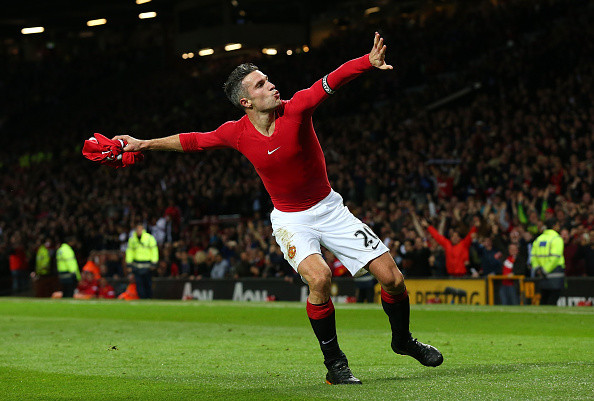 Yet this shouldn't be heralded as the final nail in the coffin for his career at Old Trafford. With Falcao hinting at being available for upcoming fixtures with both Hull and Stoke and Wilson offering such pace and enthusiasm every time he makes an appearance, there's a sense that this next week is a superb chance to give Van Persie a break from the starting line-up.
Falcao must be itching to put rumours of a serious knee injury to bed and Wilson's unbridled desire and ability is sure to translate into goals to add to the two he notched on his debut against Hull last season. Simply put, United can cope.
It's also worth noting that Van Persie has been another victim of the weekly selection reshuffle forced upon Van Gaal by a never-ending spate of injuries. Di Maria has struggled in matches when asked to play on the wing, and United's midfield has been far flatter than it was earlier this season, purely because the likes of Marouane Fellaini need to keep in close proximity to a young, unfamiliar defence.
As such, whilst Van Persie is certainly guilty of looking a little lifeless at times, he's not receiving the sort of delivery that he normally thrives upon. Two of his three goals have come as a result of link-up play with Falcao, who has been largely absent in the last month. Van Persie's current situation would also be far more concerning if he had been missing great chances on a weekly basis, but all too frequently, he isn't seeing the ball in dangerous areas frequently enough to have an effect.
Clear improvement is needed on both sides if Van Persie is going to get close to the tally of 18 goals that he reached last season. The striker is lacking in a number of departments of late, and the scruffy nature of his late leveller against Chelsea hasn't acted as the shot in the arm many had hoped. But given better delivery, time to catch his breath, and the simple fact that his current manager knows how to handle him better than perhaps any other in the game, United should start to see Van Persie purring again this season.
The article was provided by Red Mancunian, one of the most popular Manchester United fan accounts in the world. You can follow them on Twitter here or go to www.redmancunian.com.