It's probably a stretch to suggest Wayne Rooney is the most polarising force in world football, but when it comes to Manchester United, at least, the England captain can lay claim to being the most divisive player.
A decade on from his move from Everton, some sects still praise Rooney's every action - while others feel he is unfilled, and then there are those who are even more trenchant and think he should leave the club. Some curious common ground has been found under Louis van Gaal over the course of this season, however, and it is becoming particularly difficult to grumble with the man who stands a mere 28 goals from becoming United's top goalscorer of all time.
The concerns from those less than enamoured with Rooney were clear at the start of the season; they felt that van Gaal was pandering to him in much the same way as David Moyes, by forcing players out of their best positions in order to accommodate him. Worst still, twice in the opening five games, he let rip with irate, immature tirades at the squad's younger players after mistakes in the defeats to Swansea and Leicester City.
The argument was simple; why should he be an automatic starter? Juan Mata was seen as a superior number 10, with a better first touch, and Radamel Falcao was, injuries notwithstanding, a better striker. A red card for a poorly timed thwack at Stewart Downing during a tight victory over West Ham United, and the subsequent three-game ban that ruled him out for almost a month, hardly helped his cause in that regard, and plenty were hoping that his absence wouldn't be felt.
A win and two last-minute draws was hardly a poor return during his suspension, but there's no doubt that United have looked a better side since Rooney's return, and that van Gaal is teasing the very best from his captain.
Rooney led the way with a superb dribble and burst of pace against Manchester City to set up one of United's few opportunities after Chris Smalling's sending off, scored United's second after a superb break alongside Angel Di Maria as well as setting up the Argentine for a chance of his own, and fired in beautifully from outside the area after Robin van Persie's set-up to give his side a commanding 2-0 lead against Hull City this past weekend.
Gone is the wild, snarling beast that rightly riled so many in late summer, replaced by a cool head who appears to be getting the job done with ruthless efficiency. The van Gaal treatment is clearly working.
Such is the scrutiny that surrounds Rooney that detractors will pounce and prey upon any slip they see, on the pitch or away from it. In some ways, that's understandable; no other English footballer has had the attention of both the public and press in quite the same way over the last 20 years as him, not one.
Moving to the country's biggest club was only ever going to exacerbate that, and even now, at the tail-end of his 20s and with five Premier League titles and a Champions League medal to his name, there is no English footballer viewed as intensely and intently as Rooney. The added dollop of pressure that comes with wearing the captain's armband for both club and country is hardly insignificant, either.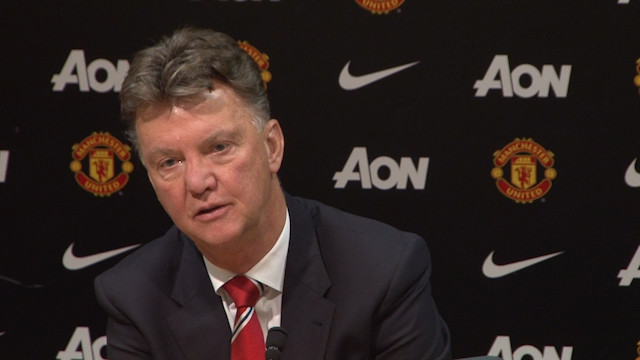 Rooney's detractors within the United fanbase will never be fully won over at this stage, no matter how he conducts himself. He committed the cardinal sin, and made it appear that he 'got' the club, which was all fine and dandy before he handed in a transfer request and began agitating for a move to City behind the scenes.
But most accept that, at this stage, Rooney is very unlikely to leave the club, especially not after the bumper 5-year contract that Moyes saw fit to give him last season. He has little reason to leave, not with his weekly wages. As such, the best-case scenario for anyone that takes a vested interest in the fortunes of Manchester United is to have him scoring and playing well. At present, he's doing just that.
Perhaps too much is assigned to the importance of the captain's armband; van Gaal himself has said that his team lacks leaders, which is a slightly damning indictment of Rooney's reign thus far, but on the whole, he has returned from suspension with renewed vigour and looked exceptionally sharp in the process.
United fans are accustomed to waiting several weeks for the former Evertonian to get back in gear after a significant lay-off, but for once, he's provided a pleasant surprise and hit the ground running. Such is the danger he currently poses that there was an inevitability about his goal against Hull, with the ball wrapped so deliciously around his foot and curling away from Allan McGregor into the bottom corner.
Even at the forefront of Moyes' plans, Rooney looked somewhat jagged, uncomfortable, although that wasn't an uncommon theme in and around the United side last season. This year, he, like the team around him, have steadily improved, with van Gaal drawing the best out of him as December arrives. It's not a sight that will fill every United fan with unadulterated glee, to see Rooney in full flight, but it's a positive one, nonetheless.
Much is made these days of the unimportance of player contracts in football, but Wayne Rooney's is a rare case in that it offers little wiggle room. Few clubs can afford his wages, and at this stage, approaching 30, few will be willing to meet them, meaning that he is essentially tied to Manchester United for the foreseeable future and presumably beyond. In this instance, whether you worship him or not, a fit and firing Rooney is certainly in the best interests of the club. With a packed festive fixture list approaching, he could scarcely have timed this particular purple patch any better.
The article was provided by Red Mancunian, one of the most popular Manchester United fan accounts in the world. You can follow them on Twitter here or go to www.redmancunian.com.