Tevez Warns Manchester United, 'I'm Not Giving up on Title'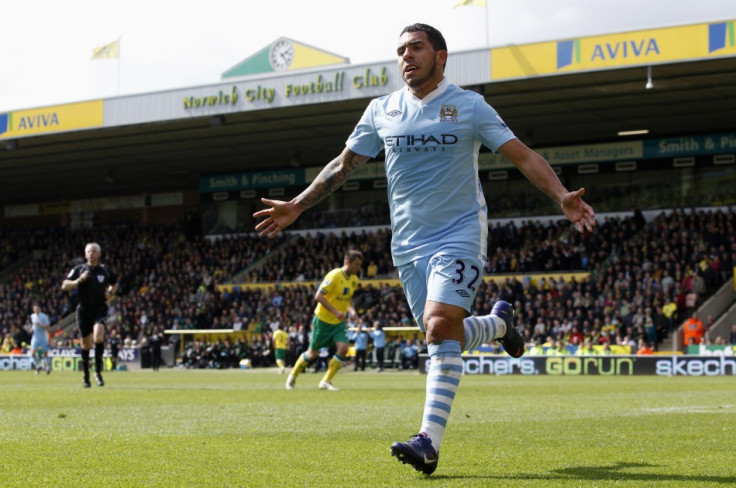 Manchester City's controversial Argentinean striker Carlos Tevez has spoken out on the Premier League title race, insisting that City will continue to pressure their title rivals Manchester United all the way to the finish line.
According to an article by the Daily Mail, Tevez has insisted he will do all he can on the pitch to help his side claw back lost ground over United. The forward, who used to play for Sir Alex Ferguson's Red Devils, has warned his old side that further slip-ups (United lost 0-1 to Wigan on 11 April, while City recorded 4-0 and 6-1 wins over West Brom and Norwich in their last two league games to reduce the deficit at the top of the table to five points).
"We'll be fighting until the end and until it's mathematically impossible to be champions. We always knew United can lose points, and now they have to come to play at City which will be difficult. We won't give them any space. We are going to continue to put them under pressure, and then we will see how it finishes," Tevez said.
There are only four games left in the season and one of those will see United visit the Etihad (on 30 April); that game could well decide the title. The pumped-up striker has scored four times in his first two league starts since returning from Argentina, where he was in the middle of severe disciplinary problems with City.
Meanwhile, despite his excellent recent form, City boss Roberto Mancini is unsure of keeping Tevez around for next season. Mancini already has the problem of dealing with the equally controversial and disruptive Mario Balotelli and may, rightly, feel that two such players could be too much for the club to bear.
"I don't know. I don't know this. It depends. Now I think it is important that we think about the next four games. After that, at the end of the season, we will see what can happen with all the players," Mancini was quoted as saying in an ESPN report.
However, the Italian manager also insists that nobody in his squad has any problem with Tevez playing now and they are all focused on the league title and catching Manchester United. He dismissed any such speculation, saying it was all "in the past".
Manchester City will next play Wolves, away, on 22 April.
Manchester United will next play Everton, at home, on the same day.
© Copyright IBTimes 2023. All rights reserved.