Crystal Palace remain hopeful of convincing Manchester United to loan Wilfried Zaha back to the club next season.
The Premier League champions signed Zaha in a £15 million deal in January, but the forward was immediately loaned back to Selhurst Park to play a key role in securing promotion to the top flight for the Eagles.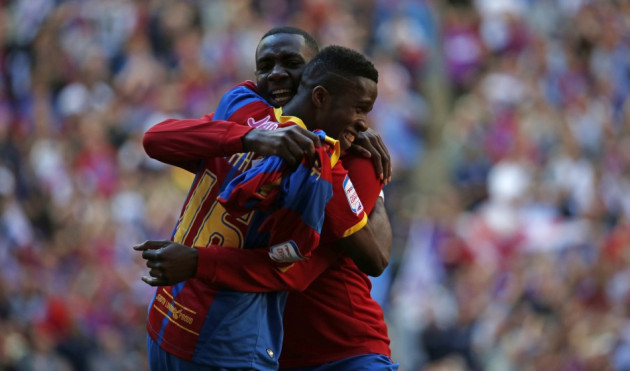 The 20-year-old is now set to join up with his new United teammates this summer, but Palace co chairman Martin Long has indicated the club will shortly be in contact with David Moyes with hope of securing another loan deal for Palace's return to the top flight.
"They might want him to get experience in the Premier League playing for us rather than maybe not playing for them. I don't know, of course," Long said.
"We probably will ask."
Zaha has played an instrumental role in Palace's season, culminating in a man of the match display in yesterday's Championship playoff final win over Watford. It was the youngster's darting run into the Hornet's penalty area that drew the foul in extra time which was duly dispatched by veteran Kevin Phillips.
Ian Holloway is also keen to bring the forward back to Selhurst Park next season, although he doubts incoming United manager Moyes will want to send Zaha back out on loan again.
"I think he (Moyes) would be silly to give me him back. Now we're up it might be realistic but who knows?
"He will know the task he's got. Mine will be staying up, his will be winning every week. Good luck to him and good luck to us."
Zaha was left in tears after Palace secured their return to the top flight in yesterday's 1-0 over Gianfranco Zola's side, ensuring his boyhood club finished their gruelling campaign in exhilarating style.
"To leave Palace now, knowing they're in the Premier League, that's all I wanted," he told Sky Sports following yesterday's win.
"I told myself I'd give all I can, I've given it 200 per cent and I've wanted it for so long. I just wanted to help out the team and I'm happy we actually made it.
"Walking into the stadium with so many people was amazing and being able to play at such a great ground left me speechless. That's all I wanted."
Zaha's focus will now be shifted towards England U21's European Championships campaign, which begins in Israel on June 5 against Italy.