Manchester United first team coach Rene Meulensteen is reportedly the latest member of the back room staff to step down from his position at the club.
Incoming United manager David Moyes is likely to make his own appointments when he officially takes charge at Old Trafford on July 1, but the upheaval at the club has already led to the departure of assistant manager Mike Phelan and goalkeeping coach Eric Steele.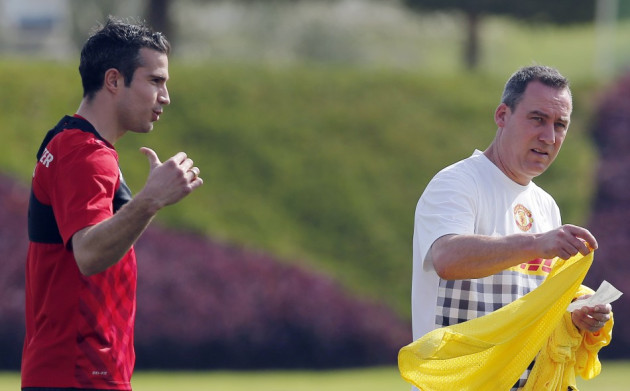 And highly regarded coach Meulensteen could be the latest member of the back room staff to depart, amid a growing number of reports suggesting the Dutchman is prepared to step down.
The Daily Mail reports that Meulensteen will be offered the opportunity to remain at the club as head of their youth set up, but will instead take the opportunity to move on from Old Trafford, with the managerial role at Eredivisie outfit FC Twente reportedly in the offing.
Former United player Phil Neville has already been linked with the assistant manager job at Old Trafford following Phelan's departure, while Moyes is also expected to bolster his back room options with Jimmy Lumsden and former England international Chris Woods.
News of Meulensteen's departure is likely to be met with disappointment from the United contingent. The 49-year-old has been employed by the club since 2001, bar a year away when he decided to try his luck at management with Brondby in 2006, and has garnered the respect of everyone at Old Trafford.
One man who likely to miss the coach's influence is Robin van Persie. The striker lavished praise on his compatriot earlier in the season, labelling him "one of the best coaches in the world."
"The way he (Meulensteen) trains is exceptional," Van Persie said in February. "He is truly one of the best coaches in the world. I have had a lot of good trainers, but it is the way he prepares our team for games. Every match is different, so every training session in the build-up to games is unique.
"We know exactly what to expect and he wins points for us through his training. We've won a lot of games by the odd goal and they are point winners, which we train for.
"For instance, against Chelsea I scored after a low cross from Antonio Valencia on the right. It might seem a fluke but the whole week before the game was spending working on that move.
"Another example is my goal against Wigan, when I cut the ball inside and shot with my right foot. Again, this situation, we trained on. Training is really good. It is a very pleasant environment to work in."