Manchester United 'Have Been Disappointing,' Claims Spanish Ace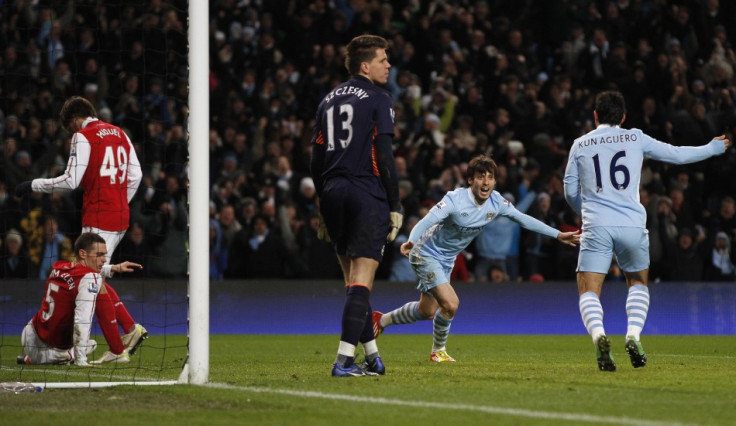 Spain international David Silva believes Manchester United are City's chief rivals for the Premier League title and backed boss Roberto Mancini to lead the club to glory this season.
City are two points clear of Manchester United ahead of a hectic festive period and remain on-course to win their first top-flight title since 1968, after their win over Arsenal on Sunday.
Silva's goal secured a 1-0 victory for Mancini's side as they moved back above Manchester United in the title race.
"We are aware that Manchester United are going to be pushing us all the way but we have to focus on ourselves," Silva said.
"You might say [Manchester] United have been disappointing but they are right there on our heels and you can't knock that.
"We know they [Manchester United] are going to be right behind us so we have to make sure there are no slip-ups and try to win every game. We have to keep playing at the same level as we have been. To keep the gap as it is we have to keep winning our games."
City suffered a blip earlier this month after they lost their unbeaten record with a 2-1 defeat to Chelsea at Stamford Bridge.
But they bounced back in impressive fashion at the weekend to put their temporary setback behind them.
"That was a must-win game," Silva said of the win over Arsenal. "We needed a confidence-boosting wing after the defeat at Chelsea and I think this will lift us.
"I think Roberto is doing a great job. He got us into the Champions League for this season and the fact we are top speaks for itself," the Spain international added.
"We also won the FA Cup last year and it would be nice to repeat that - but the Premier League title is the big target."
Meanwhile, Mancini has challenged Mario Balotelli to back up his profitable 2011 with an improved display in 2012.
"Mario can improve every week and every month," Mancini said. "He is young and when you are a young player, you improve always.
"I hope the New Year can bring a different way for him and that he can understand if he wants to play well and have a good private life, he should have good behaviour always, not for one week yes and then change for two days."
© Copyright IBTimes 2023. All rights reserved.