A quick glance at the popular fans' forum Red Cafe tells you that United fans hold wildly differing views on the progress made this season. Some feel that it has been a triumph, others a colossal disappointment. Some (well, one or two) have suggested Louis van Gaal should be sacked for failing to guide United into the top three.
Me? Well, I'm just happy we're back in the Champions League. The gap between games has been endless this season. I've felt starved of football, and I'm sure many fellow reds feel the same. Those god-awful international breaks have induced something akin to withdrawal symptoms; at various times this year, we've been denied our United fix for a whole fortnight so Ingerlund can play a meaningless game at Wembley for the mass of oiks, yokels and busman's holidaymakers who follow our wretched national team.
Next season, though, it'll be different. Provided we negotiate the qualifier in August, we'll have regular midweek football back again to illuminate the bleak Manchester mid-winter. That old excitement will crackle once again in the crisp evening air around Old Trafford, the highpoint of the working week restored. A pleasure we once viewed as a divine right will be given back to us, and no-one will take it for granted this time.
But if United are to thrive in the Champions League (in fact, if they're even to qualify for the Champions League) they're going to need to spend as much as they did last summer. In fact they're probably going to have to spend even more, as the holes which riddle the squad are most glaringly evident in key positions, the ones where the market is at its fiercest.
If David De Gea leaves, United will have to replace the entire spine of their team. Even if he stays, they'll have to buy a central defender, a right-back, a central midfielder and a striker. We're not talking middle-ranking players like Marcos Rojo or Marouane Fellaini, but blue-chip international-class players, the ones who are valued at £20m per leg.
United scoured the world for emerging talent in the latter days of the Ferguson era, but most of those gambles have backfired. Players such as Phil Jones, Javier Hernandez, Bebe, Gabriel Obertan and Nick Powell have all fallen short of expectations at Old Trafford, and the failure of this strategy has left United's squad alarmingly exposed. The problem was compounded by David Moyes' bungling, and Louis van Gaal's attempt to throw money at the problem has done nothing to plug the gaps.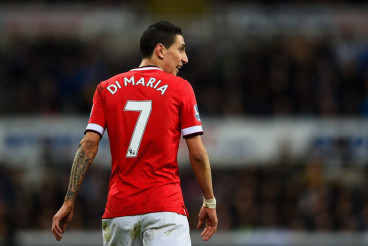 With names such as Angel di Maria and Radamel Falcao on the payroll, United's squad looks great on paper. But, in reality, it is paper-thin. The galactico forwards signed last summer have failed miserably, and their signings have created an imbalance within the squad: a glut of mercurial, largely ineffective forwards and a dearth of quality in front of De Gea.
Think this is harsh? Well consider the team Van Gaal fielded on Saturday. At right-back Valencia had a poor game, often clumsy in possession and careless in his crossing. He is a superb athlete, but there is something frustratingly robotic about him. We should be cheered by the fact that a man with only one working foot has risen through the ranks to play for Manchester United, but in reality it's actually pretty annoying.
Blind's limitations exposed
In midfield, Daley Blind showed against Palace that he cannot be trusted to assume Michael Carrick's mantle when the great orchestrator is absent next season. Blind is a classy footballer, with vision and a lovely range of passing; if Van Gaal could build some sort of rudimentary fly chamber and fuse him with Valencia, he'd have one hell of a footballer. But unfortunately this sort of procedure is not yet scientifically possible (and carries obvious ethical concerns), so Blind is destined to remain a poor man's Gareth Barry. Given that most of us previously assumed Gareth Barry was the poor man's Gareth Barry, this is pretty damning.
At Selhurst Park Blind was simply bullied by the Palace midfielders, Mile Jedinak looming over him throughout the afternoon like a gym-inflated pirate. Every 50:50 challenge was a lost cause; Blind was never able to recover the ball and provide the springboard his team needed. He is a fine left-back, but surely not a holding midfielder at the highest level.
Then we must consider Jonny Evans, a player who seems to have been at United since they played in green and gold, but has never fully convinced. Like Blind, he looks good on the ball but seems to be easily intimidated. Stick Vidic alongside him and the cracks can be covered, but unfortunately United don't have anyone of the Serb's calibre at the moment, and they're unlikely to find someone as good this summer.
Evans, Blind and Valencia are all fine squad players, but they're not the type of players you want to rely on in the biggest games. You could go further and say something similar about Jones, Marouane Fellaini, even the perma-crock Luke Shaw. In fact, looking at the United team on Saturday, it was fiendishly difficult to find players who should be guaranteed a starting place next year.
Bar De Gea and Rooney, who would be an automatic pick? Maybe Smalling, if he maintains his present form. But after that... ?
At the moment, United are doing ok. We're all grateful to them for giving us our midweek treat back, and most of us aware that they've probably fulfilled their collective potential this year. But next season, the bar will be set several notches higher, and Van Gaal will have to excel in the market (an area he hasn't always enjoyed) to ensure United don't fall beneath it.