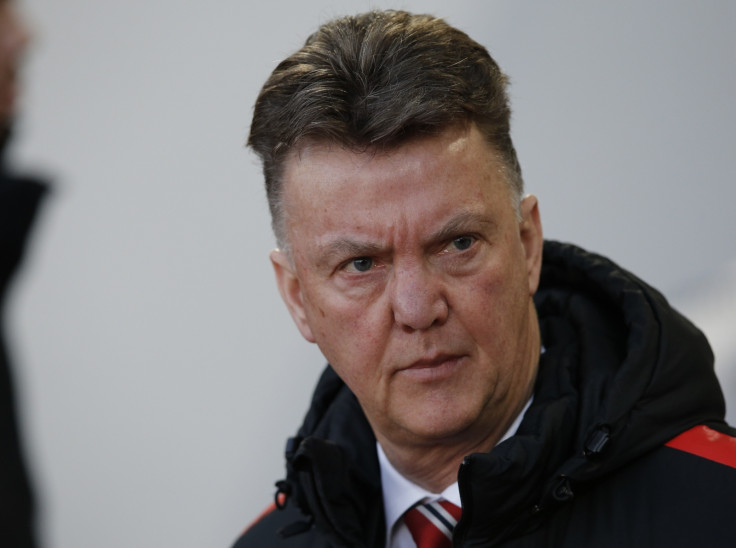 The look on the face of Manchester United's press officer as Louis van Gaal held his carefully assembled dossier aloft in front of the waiting media encapsulated a feeling around the club at the minute. What exactly is going on here?
The United boss chose Tuesday's pre-match press conference ahead of Wednesday's meeting with Burnley as the chance to hit back at the 'long-ball United' label applied by Sam Allardyce.
While the inevitable Rafa Benitez 'rant' comparisons have not helped, van Gaal's defence of Sunday's insipid attempts to break down West Ham United just didn't really seem to accomplish anything. Other than perhaps reinforcing criticisms many were armed with after Sunday and drawing focus to others.
One particular document highlighted Manchester United's pass completion rate of just 33.3 percent in the final 14 minutes of the game. Was there any need for another stick to beat United with?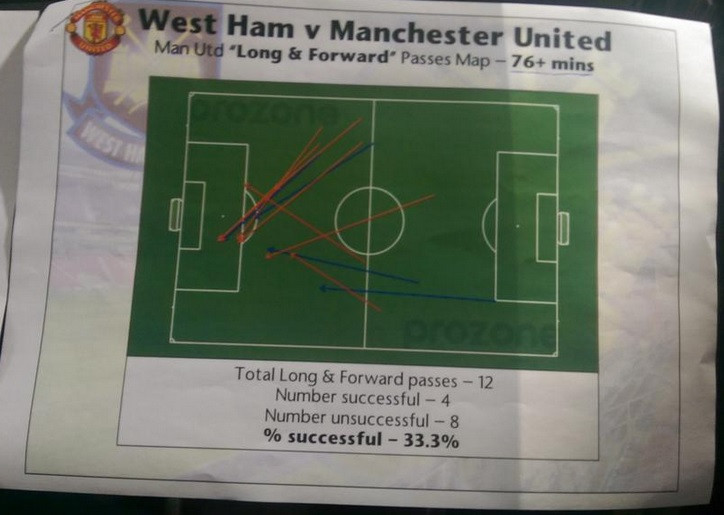 Van Gaal's main gripe seemed to be that forward passes that seek to switch the play in a match shouldn't be counted as the much derided long-ball game.
But the differing interpretations of what constitutes a long ball still produce the same conclusion. That watching Manchester United in 2015 has become a drab affair, devoid of any joy and transformed into an unrelenting exercise in uninspiring pragmatism. It's alien for a team whose penchants for eye-catching and free football are so deeply entrenched in the history of the club.
Today's actions were an example of the staunch attitude which is Van Gaal's hallmark, and which so many fans were desperate for prior to his appointment last year.
The man is resolute in his beliefs and his long-term vision, despite media scrutiny and murmurings of discontent among supporters. There was undoubted passion in Tuesday's media offering, another box that urgently needed to be ticked in naming David Moyes' successor last year.
But in railing against his critics after this particular incident, United fans must feel at a loss to see what it has accomplished. If it wasn't 'long-ball United' on Sunday, then most would surely agree it was something just as bad.
The furore to emerge from Sunday's meeting at Upton Park and today's press conference will have helped deflect criticism from United players following another woeful showing, both collectively and individually. This was a tool Sir Alex Ferguson was unequivocally a master of.
But while individual concerns ahead of Wednesday's game against Burnley - Wayne Rooney's ineffective midfield role, Radamel Falcao's worsening malaise, Angel di Maria's apparent disinterest - may have become secondary after van Gaal's words, United's collective inability to function will have been reinforced.
United against Burnley at Old Trafford brings together the two teams who, erm, boast the most long balls played this season (Sean Dyche's side shade United by just 16, in stats provided by Opta.) Van Gaal's attempts to justify Sunday's showings will have done little to inspire United supporters starved of pace and verve while watching their team this season.
While United's performances at home this season have remained relatively positive, the sheer scrutiny on how United approach this game after Van Gaal's school teacher-like explanation on Wednesday will be immense.
That will be of no concern for the Dutchman, however. What we saw on Tuesday was not a meltdown, but an example of the lengths he will take to show just how much he believes in what he is doing.
It's a shame it was a rather fruitless attempt, however, that did nothing but raise more questions rather than answering them.