Manchester United: Gary Neville not sure Anthony Martial will develop into a top forward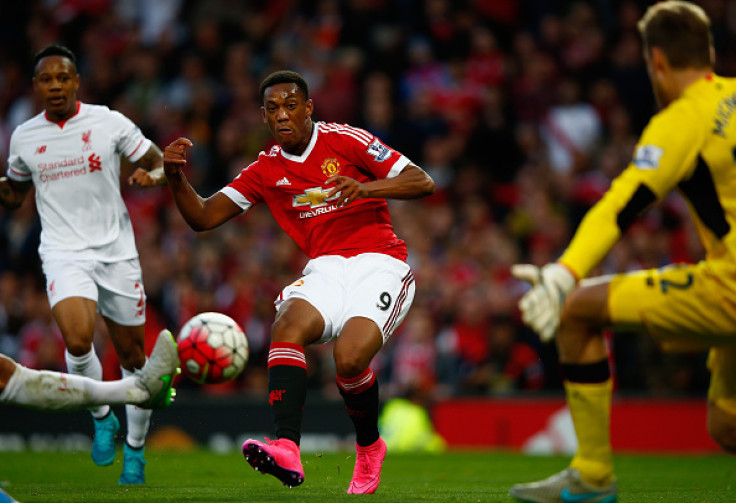 Manchester United icon Gary Neville has said that "in a perfect world", Louis van Gaal would slowly bleed Anthony Martial into the first team to ease in his development, but predicts that the Frenchman will start 95% of games due to the shortage of attackers at Old Trafford. The former right-back admitted he was surprised at the starlet's promising start in the Premier League following his brace against Southampton, but believes he cannot be turned into a top scorer in the vein of Luis Suarez.
Martial became the most expensive teenager in football history when he moved to Manchester from Monaco on transfer deadline day for £36m ($54.8m), a fee that could rise to £58m if certain add-on clauses are met. Many questioned spending that much on a player who netted just eight times in Ligue 1 last season.
But Martial has wasted no time in justifying his fee, scoring three times in his first three outings for his new club. Having scored coming off the bench in his debut against Liverpool, Van Gaal has started him in the matches against PSV and Southampton, with the 19 year old scoring twice to lead his side to a 3-2 victory against Ronald Koeman's boys.
Neville believes that while Martial has shone so far, the preferred situation would have seen more patience being exercised.
"In a perfect world you wouldn't want him to start every game. A 19 year old coming for that price tag? You'd want to introduce him slowly and develop him. The problem with Manchester United at the moment is they have gone from having four or five centre forwards to having one or two," Neville said to Sky Sports.
"He is probably going to have to start 95% of all games if he stays fit. From that point of view it's not ideal, but it's more of a necessity at this moment in time.
"He's shown he can do it in the first couple of weeks. The goalscoring is the big thing. Can he step up from being a 15 in 70 man to a one in two man, let alone what the top strikers are now – the Suarezs of this world and I'm not even going to mention [Cristiano] Ronaldo and [Lionel] Messi!
"Suarez is scoring 25 goals a season in 35 games. Can he get to that level? It's difficult. I never thought he'd even be close to that but he has shown in the first couple of weeks he's got the composure to score goals. It's some start. I think to say 'some player' is a little bit early.
"I wouldn't have imagined he would have the composure he's had. If you look at his goalscoring record before he came to Manchester United – I think it was 15 goals in 70 games – it doesn't suggest he's got that level of composure."
© Copyright IBTimes 2023. All rights reserved.