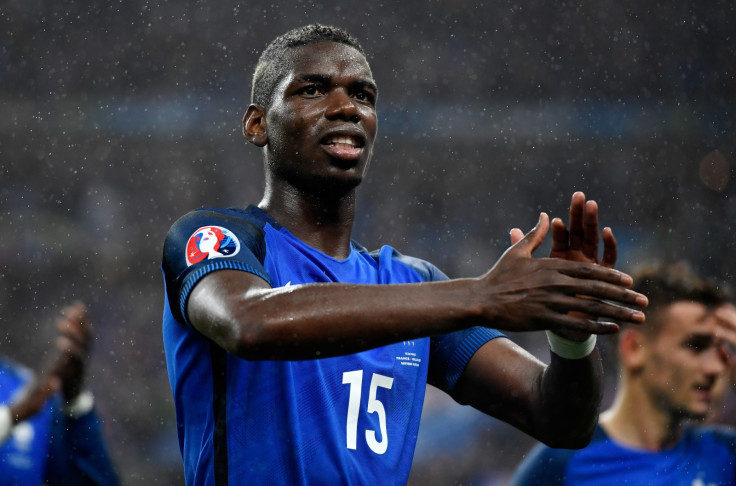 Manchester United legend Ryan Giggs has heaped praise on Paul Pogba amid talk of the Old Trafford club making a record-breaking move for the midfielder. The 23-year-old Juventus player is currently starring for France at Euro 2016 and as the hosts progressed into the semi-final stage, Giggs observed Pogba has "everything" in his game.
Pogba left United in 2012 to move to the Serie A club but has recently been linked with an £80m ($106.3m) move back to north-west England. And Giggs – who briefly played with Pogba at first-team level – has suggested he would represent a wise investment for the Premier League club.
"He's a talented player. He can shoot with both feet, pass the ball with both feet and you don't realise how big he is," Giggs told ITV after announcing he is to leave United this summer. "Physically he's immense, he's strong, he's quick, and he's got everything. He has got everything."
Meanwhile, Pogba's father recently revealed he would like to see his son play in a more competitive league, as rumours of interest from United and Spanish giants Real Madrid continue to circulate.
"It would be interesting for the family if Paul [Pogba] signed for Real Madrid," he told Deportes Cuatro, as quoted by MARCA. "We would like him to play in a better league, but it is up to him to decide what team he wants to play for and that is the situation we currently find ourselves in."
Elsewhere, United are soon expected to seal the transfer of Borussia Dortmund midfielder Henrikh Mkhitaryan for around £26m, while Swedish striker Zlatan Ibrahimovic completed his move to Old Trafford on Friday (1 July). New United boss Jose Mourinho has also already completed the signing of Eric Bailly from Villarreal as he overhauls his first-team squad.