Sir Alex Ferguson has revealed that he is desperate for Federico Macheda to get a break after two disastrous loan spells saw the young striker fail to make a significant impact.
Macheda was previously sent out on loan to Sampdoria and Queens Park Rangers but in both cases a managerial change led to him struggling to play any first team football and his development appeared to stall.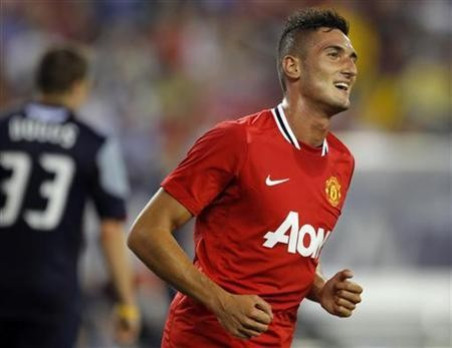 The 21-year-old made a huge impact back in April 2009 when he made a late substitute appearance against Aston Villa and scored the winning goal that went a long way towards helping Manchester United win the Premier League title.
He was heralded as a future star but struggled to force his way regularly into the first team because of the impressive number of international strikers ahead of him in the pecking order.
After two hugely disappointing loan spells, where on both occasions the managers were sacked just a short time after Macheda joined the club, Ferguson is hoping that he can finally display his talent after joining Stuttgart on loan for the rest of the season.
"I pray for the boy," the Manchester United boss told MUTV. "I must say with his experience he got at Sampdoria as they sacked the coach when he'd been there a week. The new coach came in and didn't play him. So that was four or five months lost.
"The same thing happened when he went to QPR last season. They sacked the coach and Mark Hughes came in. Of course, Mark had his own ideas about the front players and, once again, for four months, he doesn't play.
"He's been back with us since the summer obviously and he's done well in the Reserves' team and scored a few goals. This is an opportunity to get football at a higher level. It's too good an opportunity to miss."
United currently have four top class strikers in Robin van Persie, Wayne Rooney, Danny Welbeck and Javier Hernendez, while the arrival of Angelo Henriquez appears to have pushed Macheda even further down the pecking order.
Therefore the Italian will be hoping to impress in the Bundesliga having been limited to playing solely for the United youth team this season.