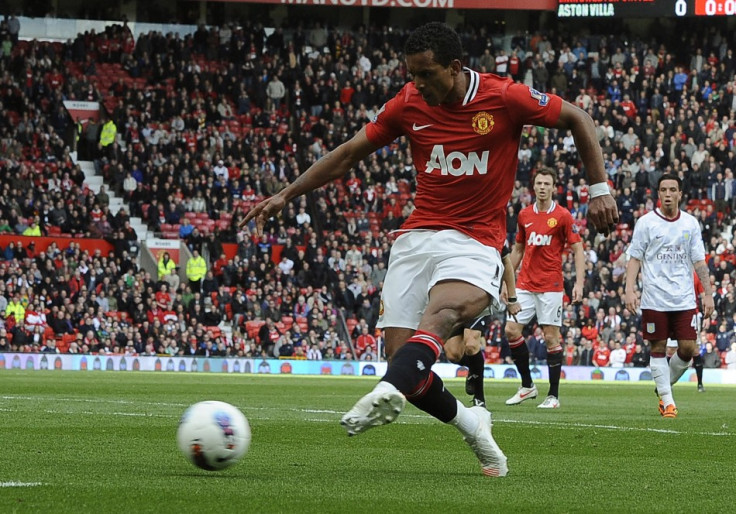 Manchester United winger Nani has criticised his team for letting local rivals Manchester City back into the title battle and said the players should feel ashamed if they do not win the league this season.
City were eight points behind United a few weeks ago but the Red Devils' loss at Wigan and home draw against Everton in recent matches mean that if Roberto Mancini's side wins the Manchester derby at the Etihad Stadium on Monday, they will go top of the table on goal difference, with just two games to go.
"We've been careless in recent games and only have ourselves to blame for being in this position. We should have been going to City with an unassailable lead. But, instead, we are facing a very difficult game with everything at stake. Shame on us. There is no excuse. A year without a title for a club like Manchester United would be a very bad year for everyone at the club. It would be a disaster," the Sun quoted Nani as saying.
The Portuguese international also cleared speculation regarding his future by saying he wished to spend the rest of his career at Old Trafford. Nani has been attracting interest from several European giants but he is now set to sign an extension with Sir Alex Ferguson's side.
"I left Portugal for a great personal challenge and to improve as a player. There have been times when it's not been easy but they treat me well here and, step by step, I am fulfilling my dreams. Manchester United is my home. The manager has immense faith in me and that's all that matters. My agent is negotiating with the club on a new deal and things are going very well. I hope at the end of the season an agreement will be reached," Goal.com quoted the 25 year old as saying.
Nani has established himself as a key player for the Manchester club after the departure of countryman Cristiano Ronaldo to Real Madrid in 2009 and the Red Devils' winger said he remains friends with the Portuguese captain, who is still an admirer of United.
"I am always in contact with Cristiano. He has been a great help to me since I came to the club, along with the manager and Carlos Queiroz. But I don't like the comparisons with Cristiano as a player. We are different and have attributes to our game that aren't similar. But, unfortunately, the public frequently compare us. What I can tell you, though, is Cristiano is still a huge United fan and is desperate to see us retain the title," Nani added.