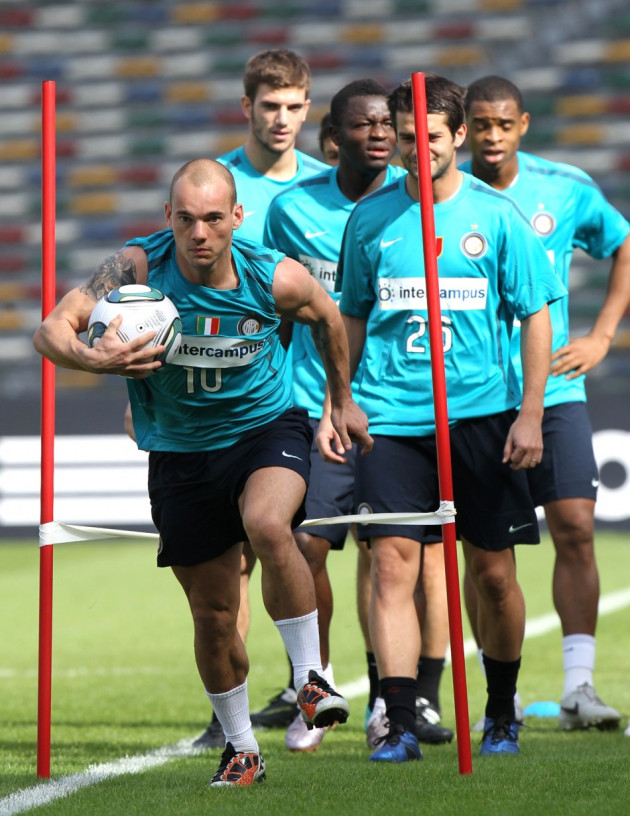 Inter Milan midfielder Wesley Sneijder has refused to rule out a summer move to Manchester United, after he admitted that "there is always a chance something will happen".
The Dutch international has been heavily linked with a move to Old Trafford all summer despite recent comments from United manager Sir Alex Ferguson that a deal was "dead".
Nevertheless, Sneijder still believes a deal is possible before the summer transfer window closes at the end of August.
"What will happen? We will see," Sneijder said on Sunday, after Inter were beaten 3-0 by Manchester City in the final of the Dublin Super Cup.
"There is always a chance that something will happen, but we will see.
"There is always speculation. I've said before, I've played for almost 10 years at the highest level and every year there is speculation."
United and Inter are believed to have held advanced negotiations over the 27-year-old's transfer earlier in the summer before talks stalled over Sneijder's £250,000-a-week wage demands.
Ferguson has previously said he has "no real interest" in Sneijder, but Inter manager Gian Peiro Gasperini revealed that an offer for the ex-Real Madrid player has been received.
"I appreciate there's been an offer, but it's with Inter the negotiations should take place," said Gasperini.
"I'm not necessarily worried, it's normal in this time to have this type of situation. The market is open to 31 August, and it will continue to happen until then.
"It's not just Inter; it's the same with other big clubs who have players that are object of desire for big clubs."
Sneijder reiterated he was content to remain in Milan, but hinted the possibility of an Old Trafford move remains very much alive.
"As you can see, I'm still here," he added. "I'm always happy. I'm a happy guy. I'm just happy to train every day with my colleagues and to train every day and to play my game for the fans.
"I've played in many competitions. I started in Holland, then played in Spain and now the Italian league, and I'm still here.
"We will see what happens but I'm happy here."
Meanwhile, United look set to lose striker Dimitar Berbatov on a free transfer next summer, according to reports in Italy.
Emil Dantchev, the player's agent, suggested the 30-year-old could leave for free when his contract expires next summer.
"The only true thing is that Berbatov is a Manchester United player, he is happy at the club and he won't move until the end of his contract," Dantchev told Tutto Mercato.