Manchester United midfielder Marouane Fellaini claims that he wants to emulate Red Devils legend Roy Keane. The Belgium international became the Premier League champions' only high profile signing after arriving at the club on the deadline day for £27.5m from Everton.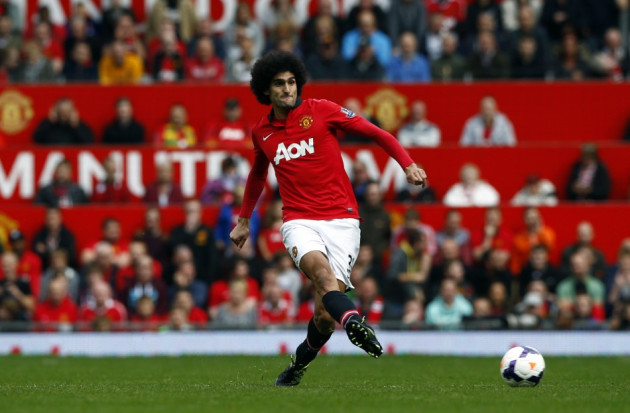 The 25-year-old is keen on creating a similar impact as that of the former Republic of Ireland skipper had during his time at Old Trafford. Keane was with United from 1993 to 2005 and has won all major silverware under Sir Alex Ferguson.
United have had several star players in the past and Fellaini has been urged to match the likes of Eric Cantona, David Beckham and Keane for his new club.
"I can win the ball, clear it and get forward as well so I look forward to the challenge. I want to play defensive midfield, but if I can help the team further forward then that's good. The fee is really not my problem - £20m, £25m or £30m - whether you are expensive or not, players are just players," Fellaini explained.
"In the past United have had legends like Cantona, Keane and Beckham. I will do my best to live up to their standards," he added.
United manager David Moyes signed Fellaini while with his former club, Everton. Fellaini hailed the Scot for giving him in the confidence when he arrived in England.
"I was only 20 when I arrived at Everton. I didn't know my team-mates or the staff. He gave me a lot of confidence and trusted me to give my maximum to the club. This is a big opportunity for me to join one of the biggest clubs in the world. I want to win the trophies and by joining United I have a big chance of doing this," the midfielder said.
Meanwhile, Moyes also went on to praise Fellaini for his rise in the league and has admitted to play him in a deeper position in United's midfield.
"When I brought him to Everton he was someone not a lot of people knew about. He has continued to improve. He is well known and experienced in the Premier League. We knew midfield was an area where we needed to strengthen. We'll play him further back the pitch than up the pitch. We've got enough people who can play the No 10 role here," Moyes stressed.