Manchester United reportedly considered Paris St Germain (PSG) coach Carlo Ancelotti as first choice successor to the outgoing Sir Alex Ferguson. A reporter for French newspaper Le Parisien tweeted information from "very reliable" sources that said the former AC Milan and Chelsea manager was approached by Ferguson directly.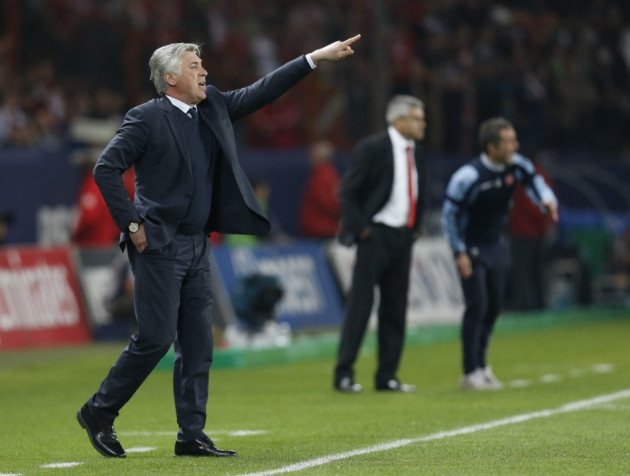 The Le Parisien reporter, Julien Laurens, tweeted: "Very reliable sources tell Le Parisien that Sir Alex Ferguson called Carlo Ancelotti last week to ask him to succeed him. He was surprised and flattered but politely declined the offer."
It is believed Ancelotti's refusal then opened the door for Everton boss David Moyes, who will take charge at Old Trafford after signing a six-year deal.
The 53-year-old Ancelotti won the Premier League and the FA Cup with Chelsea before his dismissal in 2011. The Italian led PSG to the Ligue 1 championship over the weekend, with a 1-0 win over former champions Olympique Lyon.
Ancelotti was earlier also linked to Liverpool and Manchester City and, most recently, to Spanish giants Real Madrid. However, PSG's president, Nasser Al-Khelaifi, is believed to have ruled out any chance of his manager leaving the club.
"A few days ago Real Madrid's director general (Jose Angel Sanchez) contacted me to speak to me. Very quickly I told them 'if you try to get Carlo you should know that he has still got a year left on his contract so please respect us respect this contract," he explained.
Moyes Keen on United's Traditions
Meanwhile, Moyes has revealed he is keen to continue traditions that have been part of the legacy of Ferguson. And this includes the promotion of young English talent. The Scot said he wanted a strong "B" team, in the lower leagues, like leading Spanish clubs.
"Manchester United have always relied hugely on young players and my priority will always be to promote these talents. We need to be producing better English players. My aim would be to develop [them]," the Toffees' long-serving manager told the Mail.
"There are issues to resolve: How do we get them more games at a competitive level? I like the Spanish model where there is a 'B' team playing in the lower divisions. Three years ago, I wanted to get the young Everton team into the conference, as it would be a good place to compete. The FA told us we would have to start from the bottom - in division 27 or something!" he added.