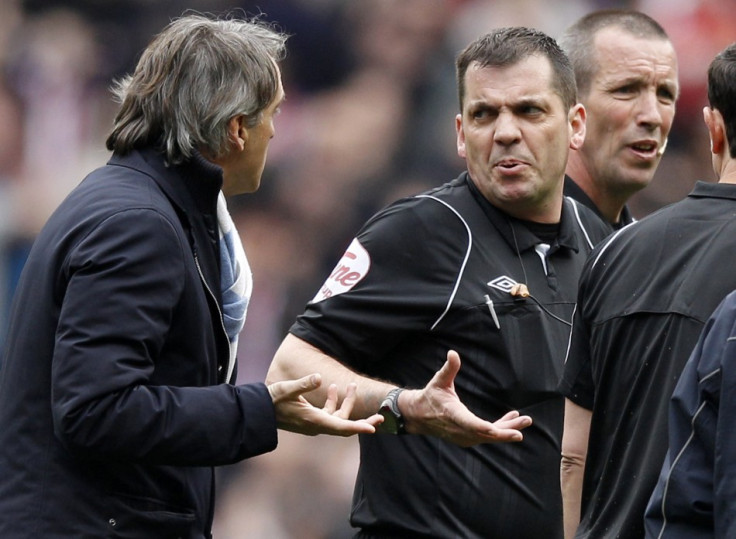 Manchester City boss Roberto Mancini has expressed his frustrations over referee decisions always going in favour of rivals Manchester United. He believes "the rules are not the same for everyone" as the Red Devils have benefitted from a number of "strange" decisions in the last few weeks.
"I am frustrated. When I was in Italy I always thought here had the best referees. My ideas have changed, probably," The Daily Mail quoted Mancini as saying.
Mancini feels United were wrongly awarded penalties during their 4-0 and 2-0 wins over Aston Villa and Queen Park Rangers respectively, as Red Devils winger Ashley Young was clearly seen diving on both occasions. Moreover, QPR captain Shaun Derry was also sent off as a result of Young's play-acting during the game.
"This is a situation I don't like because the rules should be the same for everyone - for us or for United or for West Brom. Every team should play with 11 players. The man on the pitch in a black shirt doesn't have a blue shirt or a red shirt or a white shirt," The Sun quoted Mancini as saying.
"They can't change from one pitch to another. This is not good," the Guardian quoted Mancini as saying.
Mancini also feels that a lot of decisions have gone against City; most recently during the club's 6-1 win over Norwich City when Argentinean star striker Carlos Tevez, who scored a hattrick during that game, was harshly booked for diving.
Now with only four games remaining, City, who still trail United by five points, will need a minor miracle if they want to win their first Premier League title.
"After some of the situations I saw in the last three or four weeks, I think it is really difficult for us," the United Kingdom Press Association quoted Mancini as saying.
Meanwhile, Manchester United Manager Sir Alex Ferguson feels his team is the only one being targeted despite there being several other teams found guilty of diving and play-acting.
"The only fault is that Ashley went down too easy, but it's a penalty kick, absolutely no doubt about that," the Daily Mail quoted Ferguson as saying.
"I watched the games this week - Real Madrid-Bayern Munich the other night - and it was absolutely ridiculous. Players diving and rolling about. And you see it the other night in the Chelsea game. Nothing approaching what Young is accused of, and the way people have reacted is because it's Manchester United," he added.
Ferguson, who was quite clearly angered by recent accusations of his team being favoured by the referees, says that even the Red Devils have had referee decisions against them.
"We didn't get one against Wigan in the week and we didn't scream from the rooftops about it. You get bad decisions, you get good decisions and it evens itself out, believe me," he added.
Must Read: Dalglish Accuses FA of Disrespecting Fans
Must Read: Chelsea Not Scared of Barcelona or Nou Camp, Says Cech