After being foiled in the most incredible circumstances last season, Sir Alex Ferguson and his Manchester United side celebrated an unprecedented 20th league title victory last night following their 3-0 win over Aston Villa.
From an opening day loss to Everton to last night's emphatic conclusion at Old Trafford, it has been a season to remember for Ferguson's squad. Here we take a look at each member of the squad who has made at least ten Premier League appearances and examine their role in Ferguson's latest triumph.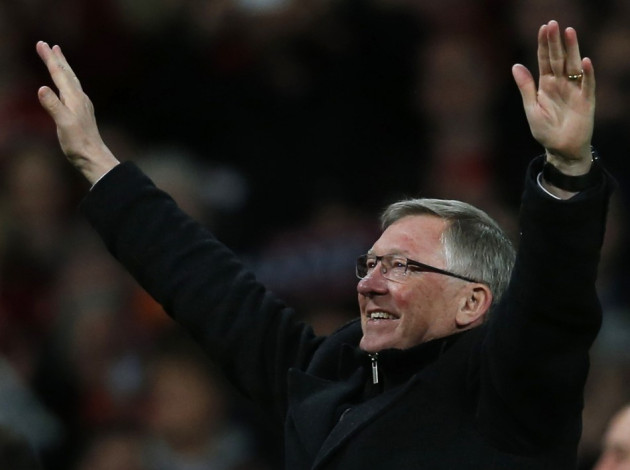 David de Gea
The Spanish goalkeeper began this campaign once again faced with questions regarding his ability to assert himself as the perpetual presence in the United goal. Having previously been rotated with Anders Lindegaard, De Gea has dispelled the notion that he isn't physically prepared for English football with a successful campaign where his confidence has grown immeasurably. While his shot stopping abilities have seldom been questioned, the Spaniard's defining moments this season have come when he has displayed his ability to comfortably battle with the physical presence of your archetypical Premier League forward, and come out on top.
Rafael da Silva
In a season where Rafael and his twin brother Fabio da Silva were separated for perhaps the first time in their lives, the former has excelled in a campaign where he has rightfully claimed United's right back slot as his own. The tenacious Brazilian has, for the most part, rid his game of the impetuosity that often plagued his performances in previous years, but has retained that endearing determination that has led to him becoming one of the finest young full backs in world football.
Jonny Evans
The northern Irishman has established himself as the club's most consistent defender this season after a marvellous campaign at the heart of United's defence. From being on the periphery of the United squad where he was overshadowed following impressive showings from Chris Smalling and Phil Jones last term, Evans' standing in the United squad has risen exponentially this season, a feat which has been pointed out by his manager and peers. The defender has also added a genuine goal threat to his game, having netted four goals this campaign, eclipsing his previous career haul of one.
Phil Jones
The 21-year-old defender has admirably filled in across United's back line and in central midfield when summoned by his manager this season, with a particular highlight coming in his tenacious man marking job on one Cristiano Ronaldo in United's Champions League clash with Real Madrid. While still getting to grips with the finer arts of defending, performances have been promising. Ferguson chose last night's celebrations to single out the former Blackburn Rovers defender for remarkably high praise, suggesting he will become United's greatest player of all time. No pressure then.
Chris Smalling
Injuries and the form of those around him have seen Smalling limited to just ten league appearances this season, but the man who was turning out for Maidstone United just five years ago has picked up from where he left off last season for both club and country, providing a reliable presence in the squad.
Rio Ferdinand
With talk of a potential replacement for the England international constantly discussed, it would be important to remember that Rio Ferdinand has demonstrated his ability to adequately cope at the top level this season. The former West Ham United defender has made 29 appearances for United this season, a total that exceeds that of any other centre half in the squad. Although his pace may be deteriorating, the veteran's remarkable awareness and calm on the ball has ensured his continued presence in United's backline, something which is also rubbing off on the array of younger stars who often join him.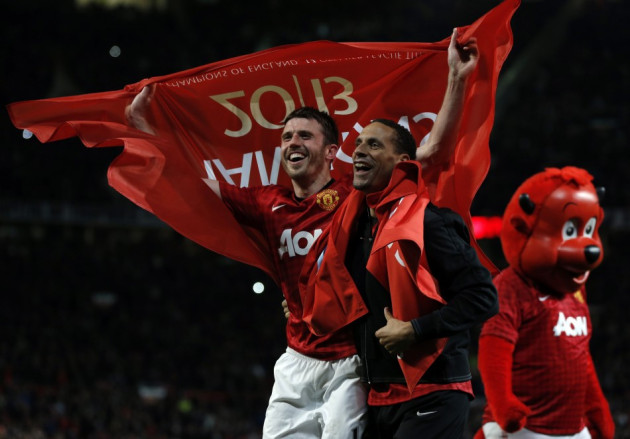 Nemanja Vidic
The Serbian endured an injury ridden 2012, but Vidic has continued to provide a formidable presence that those around him constantly feed off. The 31-year-old now struggles to play more than once a week following his extended spells on the side-lines, but it comes as no surprise that his return to the squad coincided with United significantly tightening up at the back, following a leaky first half of the season. The centre half has continued to demonstrate his relentless commitment to the United cause whenever he takes the pitch; a worthy captain of the squad.
Patrice Evra
Following a poor season last campaign, the summer arrival of Alexander Buttner may have given Evra a small reminder that an improvement was needed. Although he still occasionally caught up the wrong end of the pitch while the opposition attacks, Evra has rediscovered his form following a disappointing 2011/12 season, particularly in the first half of 2013. Like Evans, the Frenchman's added goal threat has perhaps been the most remarkable improvement of his game, with the diminutive full back claiming four for himself this season.
Michael Carrick
With defensive solidarity in place during the second half of the season and a potent strike force providing goals throughout, United's midfield has come under the most scrutiny this season. But the outstanding contribution of Michael Carrick has so often been integral to United this season, form which was deservedly recognised with a PFA Player of the Year nomination last week. Be it due to injuries, loss of form or tactical reasons, Ferguson has struggled to find a partner for the former Spurs man this season, but thankfully his remarkable consistency has allowed United to effectively operate despite their limited options in midfield.
Anderson
Now in his fifth season at Old Trafford, the Brazilian has once again failed to become the all action midfielder so many want him to be. The familiar story of a struggle with injuries and inability to develop real consistency to his game has seen Anderson play a peripheral role in United's season. The 25-year-old has made just 167 appearances during his six seasons at Old Trafford, and his occasional glimpses of brilliance may not be enough to guarantee him a place in Sir Alex Ferguson's squad next season.
Tom Cleverley
Cleverley has clearly won the approval of England boss Roy Hodgson, having started every competitive international this season. But the 23-year-old has faded at times this campaign for his club, despite showing all the qualities of a true modern midfielder earlier in the season. Cleverley's ball retention and awareness in midfield are traits that may have him earmarked for a key role in midfield for both England and United, but he will be looking to deliver those with added consistency next campaign. After only his second full season for the club however, there is a feeling that there is more to come from the Basingstoke-born Cleverley, particularly now that he has had his first taste of league success.
Paul Scholes
While Ryan Giggs has signed on for another campaign, the future of Scholes remains in doubt. Having made a retirement U-turn last January, the midfielder showed why he wasn't ready to hang up his boots with impressive early season performances which helped his side secure important results. Having made just nine appearances all season, however, his 11th title success may prove to be his last.
Ryan Giggs
Evergreen Giggs has continued to defy physical expectation by completing another season at the highest level, continuing his extraordinary feat of having scored in every Premier League season since its inception. Although his influence in the first team will continue to diminish, the Welshman never fails to provide us with moments of nostalgic genius, and will continue to do sn into his 40's after signing a one year contract extension last month.
Shinji Kagawa
The Japanese international arrived off the back of a double winning campaign with Borussia Dortmund, and while he may not have lit the Premier League up quite as brightly as some expected, the glimpses of class he has provided have been a startling reminder of what the playmaker could be capable of once he becomes fully accustomed to English football. His sublime hat trick against Norwich was the highlight of a season that started off brightly, but faded on occasion. The playmaker's peerless first touch and vision will undoubtedly have United fans relishing the chance to see what he can do next season.
Antonio Valencia
In what was generally a poor season for all of United's wingers, Valencia was arguably the best of a bad bunch. After a flying 2011/12 campaign, the Ecuadorian has struggled to replicate the powerful performances on a weekly basis. A solitary goal to his name this season also marks a poor return for the 27-year-old.
Luis Nani
The consistently inconsistent Nani has left United fans exasperated plenty of times since his arrival from Sporting Lisbon on 2007, but perhaps not with the same maddening frequency as he has done this campaign. Although he has been afflicted by injury, just six league starts combined with an increasing number of reports of a summer departure tells its own story.
Ashley Young
Although a winger's goal return may not be the fairest representation of their contribution to the team, the United wide men's paltry offerings this season make for grim reading. Between them, Nani, Valencia and Ashley Young struck 18 Premier League goals last season, compared to a miserly two this campaign, with Young being guilty of the goalless run. The former Aston Villa man has endured a season largely disrupted by injury, but will be looking to pick up once again next campaign after impressing following his arrival at Old Trafford last season.
Danny Welbeck
Welbeck's tireless desire to help his team by any means necessary may not have resulted in his most fruitful campaign in front of goal, but it has seen him recognised by his peers in the form of a PFA Young Player of the Year nomination. The 22-year-old has found himself utilised in a wide position more often than not, but his ability to draw players out and retain possession has seen him play a valuable role in United's attacking contingent. An intelligent, hardworking team player blessed with the tactical discipline of someone much older than he means Welbeck is tailor made for a Ferguson side, although he will be desperate to rediscover his scoring touch in time for next season.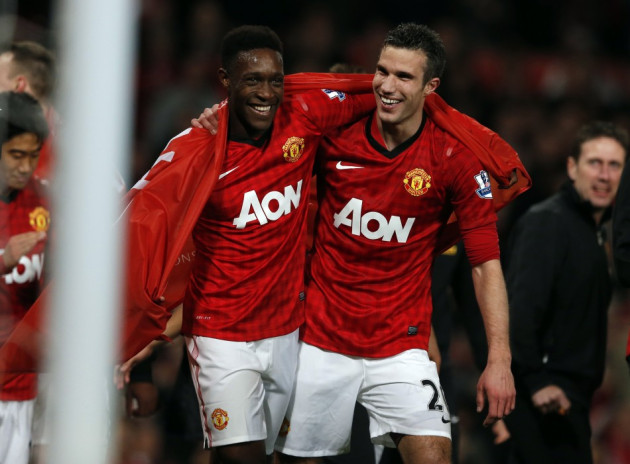 Javier Hernandez
The Mexican's biggest contribution to United's season came with a glut of goals in October and November last year, and has as ever provided a dangerous alternative when United having been seeking a winner. Whether he will remain fully satisfied with the title of United's super sub remains to be seen, but an impressive return of 16 goals despite his limited number of starts proves his impact off the bench remains as imperative to Sir Alex Ferguson's plans as ever.
Wayne Rooney
For the first time since Cristiano Ronaldo boarded that plane to Madrid in 2009, Wayne Rooney's role as United's chief forward was taken away from him with the arrival of Robin van Persie last summer. A tally of 12 Premier League goals and 10 assists his hardly a terrible haul in a title-winning season, but what is evident is the impression that the England international will have expected so much more from himself. What the future holds for Rooney remains to be seen. A move to Paris Saint Germain appears unlikely after denials from Ferguson and the Parisian contingent, but his manager's tendency to deploy him in midfield with growing frequency raises an interesting query. Is Ferguson's penchant for utilising the club's fourth highest all-time top goal scorer in the middle of the park simply a tactic employed to boost a weakened midfield, or a sign where the Scot may envisage the player's long term future?
Robin Van Persie
Sometimes football is nothing short of poetic. As one of European football's finest forwards, Van Persie chose to leave the club that brought him to these shores in order to chase title dreams he felt couldn't be achieved in north London. Nine months on, the Dutchman will return to the Emirates a Premier League champion and a Manchester United hero, and is likely to receive the guard of honour from his former teammates. Even for those Arsenal fans still bitterly disappointed with his decision to leave the club, it is a remarkable example of just how extraordinary this league can be. Van Persie sealed a scintillating first season at United with another hat trick for the club, marked by an effort his manager described as "the goal of the century." A lean spell in the second half of the season is unlikely to rob him of the Golden Boot now, but the Dutchman already has his eye on his next goal. Minutes after the final whistle at Old Trafford last night and the league was confirmed, Van Persie had already outlined his next target. To win everything.