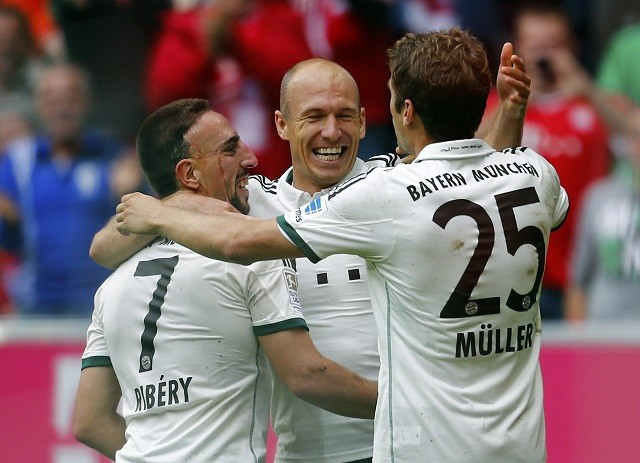 Manchester United have received a massive boost in the form of Thomas Muller, who is willing to join the Red Devils in the summer, according to German newspaper Bild.
The German forward is frustrated with his lack of opportunities at Bayern Munich and wants to follow Louis van Gaal, who is set to be announced the new manager at United, to Old Trafford.
The player wants to resume his relationship with the Dutchman, who gave him his first opportunity as a 19-year-old when van Gaal managed the Bavarians from 2009 to 2011.
New Bayern manager Pep Guardiola has used the player sparingly as a substitute and the player is looking for offers from abroad to keep his place in the starting line-up.
The German is valued at a fee in the range of £35m but with United reportedly sitting on a transfer kitty of £150m, a transfer of such an order would not be an issue for the defending champions.
United are looking to rebuild the team in the summer after a disappointing season under David Moyes. They are set to finish seventh in the league and miss out on European football as a whole.
United have also been heavily linked with a move for Muller's teammate Toni Kroos whose tenure with the club ends in 2015 and is yet to agree a contract with the club.
Meanwhile, interim manager Ryan Giggs has revealed that the Red Devils are looking to spend liberally in the summer transfer window.
"It's a big summer. Obviously it's not been a great season, so for us to get back up there we need to improve, whether that be young players getting better or players who haven't had ­experience getting better," Giggs said.
"Obviously players are going to come in. And at United, you obviously need that bit of quality that we didn't show today but I still maintain there's quality in the dressing room," he added.