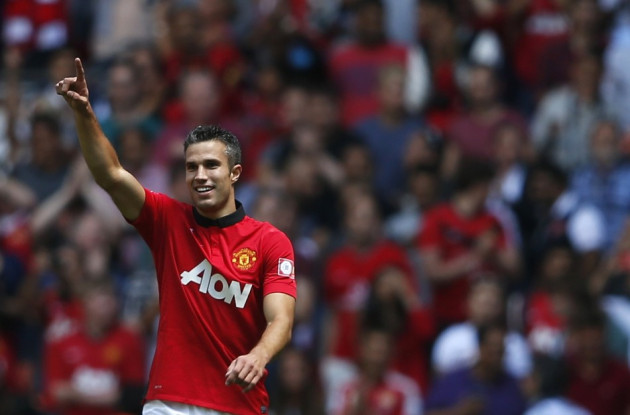 Spanish star Michu admits he wishes Robin van Persie played for Swansea after the Manchester United striker gave his side a lesson in finishing at the Liberty Stadium.
Van Persie scored twice to gift United a commanding 4-1 win over the Swans in their opening match of the season, with Danny Welbeck adding a double to crown David Moyes' first match with a win.
And Michu couldn't hide his adoration for Van Persie, who will no doubt be an important part of United's title chase this season.
"He had two chances and he scored two goals but that is why Manchester United are fighting for the championship," he said, according to the Daily Mail.
"For me, to be honest, he is the best striker in the world.
"He had no clear chances in this game and it is just incredible how he ended up with two goals. It stops with him, he is the best.
"I don't know how many goals he will score this season. A hundred, maybe a thousand! One thing is for sure, he is going to score a lot."
Michu himself has been a standout star in the Premier League, with the young Spaniard becoming one of the league's best value for money purchases after he made a £2m move to Swansea in last summer.
But he clearly believes that Van Persie is a striker whom others can look up to, with the Holland international having won the golden boot in the Premier League last season.
"It is a shame he doesn't play for us," Michu mused. "The problem with Robin is you never know where he is going to put the ball. He scored the first goal with an incredible volley with his right foot and then the second one was an amazing shot with his left foot.
"It is so hard even when you know him well you can't work him out. I think he is in the top five players in the world at the moment.
"Even though he is an opponent he is a joy to watch. He can only help to make you better because you have to be on the top of your game against him. Otherwise you can see what happens."
United face a particularly tough test in the coming weeks, with Chelsea on 26 August followed immediately by Liverpool the following week.