Manchester United: Sergio Ramos urges David de Gea to bounce back after Real Madrid dream collapses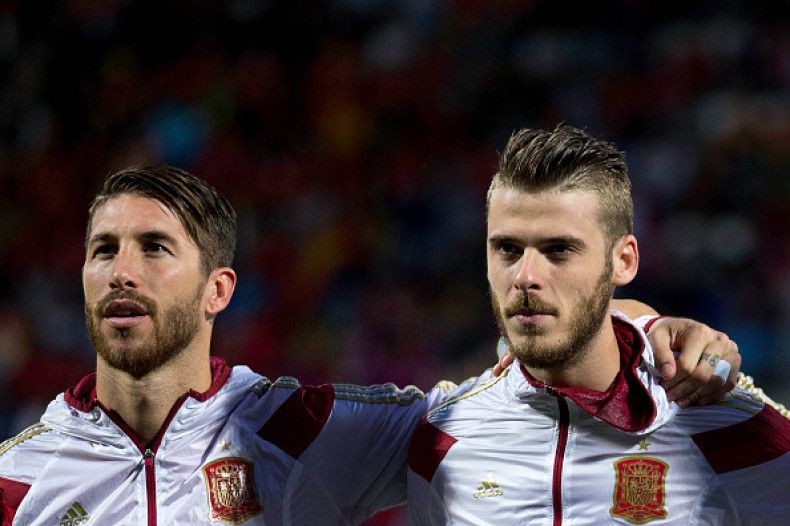 Real Madrid defender Sergio Ramos has urged his compatriot David de Gea to bounce back from the disappointment of seeing his desired move from Manchester United to the Spanish capital come crashing down in the last hour of the Spanish transfer window. The two clubs had come to an agreement over the deal, but delayed paperwork led to the move not being ratified by La Liga officials.
The two clubs have since come out in public blaming each other for the collapse over the deal. David de Gea is currently with the Spanish national team preparing for their Euro 2016 qualifier games against Slovakia and Macedonia and Ramos has advised the 'keeper to keep his head down and get on with his game.
The Spanish international defender has also revealed that the United goalkeeper was keen on a move to the Spanish capital club and feels for the player, who had to endure a difficult summer due to the constant speculation regarding his future.
Louis van Gaal has dropped De Gea from the first-team, citing lack of focus on the part of the 'keeper. However, the Dutchman did make it clear that De Gea will be considered following transfer deadline day on 1 September.
"I have not talked to David and do not know his opinion, (but) life goes on. Nobody has died for this. He must maintain his level, he is one of the best keepers," Ramos told Marca, as quoted by the Mirror.
"The world of football and signings is like this. Everyone tries to get the most and this is never easy for any player."
"He has had a bumpy summer because he has decided his future and that of his family. But it is something we have to go through at times, everyone has to understand the facts and do their best wherever they are," the Spanish defender added.