Belgium midfielder Marouane Fellaini has stated he is thrilled to have signed for Manchester United.
The 25-year-old midfielder joined the Red Devils from Everton late on transfer deadline day for a fee understood to be around £27.5m. The player has now expressed his delight in making the big move to Old Trafford.
"I am thrilled to sign for Manchester United. I'm very, very happy. It's a big moment for me. I waited for a long time, I've worked hard for this and I'm very happy to join this big club, this great club. I hope to do everything for this club. Being a Manchester United player is something that every player dreams of and I believe that I can make a real contribution to the team's efforts to win trophies in the future," Fellaini said.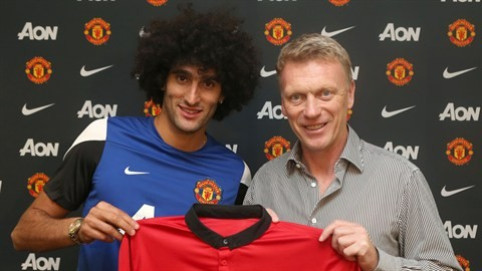 Fellaini also pointed out that chance to work with United manager David Moyes, who signed him for Everton from Standard Liege back in 2008, also played a massive part in his decision to join the ranks at Old Trafford.
"I have known the manager for many years now and I have a lot of respect for his way of working. When I was given the opportunity to work with him again, I jumped at the chance. I had a fantastic time at Everton and I'd like to thank all the fans and staff there for everything they have done for me," the player added.
Fellaini, who can play as holding or attacking midfielder, made 31 Premier League appearances last season, scoring 11 goals. Moyes also hailed the signing and stated the Belgian would be a massive player for United.
"I have worked with Marouane for five years and I'm delighted he has decided to join Manchester United. He is a player with great ability and strength and I think he will make a real difference to our squad," the manager stressed.