"If we win the league the team has to be considered in terms of other teams, there is no doubt about that," said Manchester United manager Sir Alex Ferguson prior to his side's 3-0 defeat of Aston Villa which delivered a record 20th league title.
"What may create more awareness of the side is how many points we get. We won it in 1997 with 75 and we have also won it with 91 points. That has to be considered in judgment against other teams."
Ferguson said upon United clinching their 13th league title under his reign that 'nostalgia can play tricks,' suggesting that he doesn't want his current champions to be in any way overshadowed by those teams that have gone before.
But such is the Scot's body of work that, when comparing successful United teams under Ferguson, you have a wide selection from which to choose from.
The first title winning team including Eric Cantona in the mid-90s; the squad which ripped the title away from the grasp of Arsenal in the 2003/03 season including Ruud van Nistelrooy; the 2006/07 team which went on to win three league titles; could all be considered the finest team accumulated by Ferguson.
However, United folklore isn't complete without a mention for the title winning team of 1999, which went on to record a historic treble. The squad against which all future Ferguson teams are compared, provide the best gauge as to where the current crop stand in the pantheon of great Old Trafford teams. And how do the class of 2013 stand up?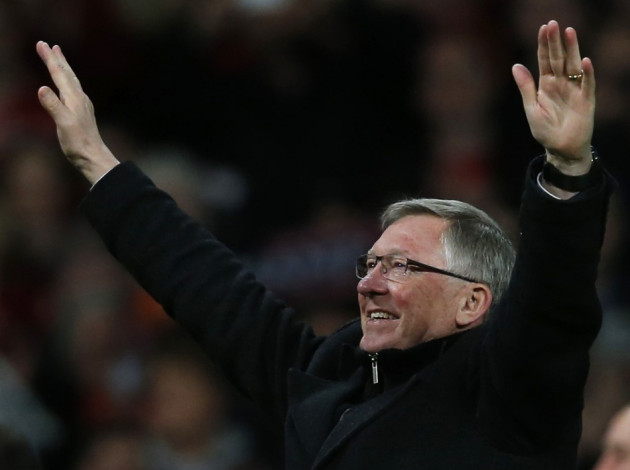 1999
Peter Schmeichel- 10
Arguably Ferguson's finest ever signing was a colossus during the treble campaign. One of English football's finest ever goalkeepers.
Gary Neville- 7
A dependable full-back in his pomp and a superb ally for David Beckham on the right flank. Attacking attributes always undervalued.
Jaap Stam- 9
In a team regarded for their attacking qualities, Stam was the failsafe in United's back four. Sold too early two years later to Lazio.
Ronny Johnson- 7
No statues, stands or testimonials for the Norweijan defender, but played as an important part as any of the United squad.
Dennis Irwin- 8
As reliable as any at United and another willing runner from full-back gave the champions great balance.
David Beckham- 8
Pinpoint accuracy from deadball situations, but we saw streaks of his never-say-die attitude which dominated his England career also.
Paul Scholes- 8
Not yet the metronomic passer we know him to be now, but more a late arrival from crosses with a shot akin to a firecracker.
Roy Keane- 9
Few great United performances in the 90s weren't inspired in some way by Keane's driving runs, determination and ferocious tackling.
Ryan Giggs- 7
Not in his pomp during the late 90s as injuries and pace began to catch up with him, but still among the club's more important players.
Andy Cole- 8
The barn-door became that much easier to hit for Cole and his combination with Dwight Yorke, who gave a new meaning to the word telepathy.
Dwight Yorke- 8
Added goals to his delightful build-up play and formed arguably the finest forward partnership in recent years in the Premier League.
Total: 89/110
2013
David de Gea- 7
Shaky opening season has been followed by a more assured second campaign in English football with the Spaniard's frame having swelled. Handling remains an issue.
Rafael- 7
The most improved player in the United squad, this season he has tinkered with his positioning, but added more goals and assists.
Rio Ferdinand- 8
Among his most consistent seasons in terms of injuries and appearances for some years. Far from the peak of his powers, but a necessary facet of the United back four.
Jonny Evans- 7
Now the permanent replacement for the injury prone Nemanja Vidic, Evans has formed the base of a much changed United defence.
Patrice Evra- 8
Has recovered from last season's dip to produce heroics at full back with a spate of headed goals. Provides much needed balance on the left.
Antonio Valencia- 7
Far from his finest season for United but his wizardry from the right was apparent again against Villa. With 26 appearances this season he is rapidly becoming first choice once again.
Michael Carrick- 9
Combined inch perfect passing with reliability in the holding role; a trait many have hoped the England international would learn. United are now reaping the rewards.
Tom Cleverley- 6
Another whose appearances have been sporadic but who continues to grow into this United team. One of the several to claim their first league title.
Ashley Young- 7
Injury has affected his contribution but he remains a reminder of the club's policy to employ wingers on either side. Devilish delivery makes him first choice when fit.
Wayne Rooney- 8
Shackled for much of the season in a deeper role; Rooney produced a telling reminder as to his unerring quality with a brilliant pass to set up Van Persie's second against Villa. Still a prized asset at Old Trafford.
Robin van Persie- 9
If you condense the title race into one player, then it's difficult to detract from the impact of the Premier League's leading marksman. Devastating at times this season.
Total: 83/110