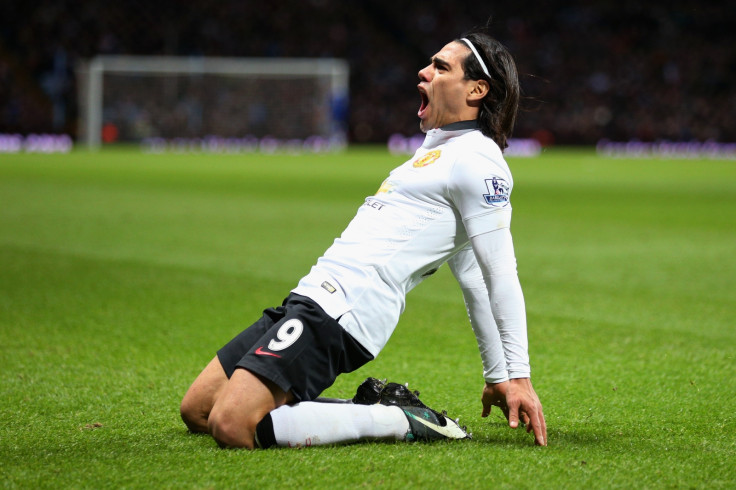 Manchester United loanee Radamel Falcao has claimed that footballers rarely decide their destiny, reopening the debate over whether he wanted to move to Old Trafford or somewhere else during the summer.
The Colombian international made a sensational move to Louis van Gaal's side on deadline day, after the Premier League giants agreed a lucrative loan deal with Monaco, with the option to make it permanent for around £44m at the end of the current campaign.
However, reports in Spain then said Falcao's dream was to eventually join Real Madrid since before he left Atletico Madrid for Monaco.
Manager Carlo Ancelotti ruled out his signing because he didn't want a top striker to compete with Karim Benzema for the number nine role, but a back-up like Javier Hernandez Chicharito.
According to summer reports, Falcao's prestigious agent Jorge Mendes then started to look for some alternatives. Liverpool, Juventus and Arsenal were linked with his services and just before completing his move to Old Trafford, reports said that he was eventually on the verge to move to City instead.
Falcao has failed to clarify the situation but when asked about whether a player is in charge of his destiny during an interview with Spanish magazine Libero, he has now sent an enigmatic message: "No, I'd say not. It makes me laugh at times when I get asked why I didn't stay at a particular club or why I haven't moved to another side, as if the player has a choice in the matter."
"I'd say back to journalists, why don't you work at CNN or ESPN? It's the same in football. On very few occasions can the player make the decision to move from one club or to another. There have been occasions when I've not been able to live in the way I want, many times. I want to go to a particular club and in finally I end up at another"
Falcao suggested that he left Atletico Madrid in summer 2013 due to the Spanish giants' economic situation.
"I knew it would be difficult to remain at the club, principally due to the difficult financial situation that the club was experiencing at the time. There was constant talk of the need to sell me at the end of the season so I was well aware of the situation. After just four months I knew my time at Atleti was to be brief..."
Indeed the United striker claimed that his best football moments were both at Atletico and Porto.
"I've enjoyed playing everywhere. I've been happy everywhere in my life. Maybe the happiest times where shortly after arriving in Europe, at my time in both FC Porto and at Atlético Madrid. I'm very proud of everything I've achieved at every club that I've been fortunate to play for".