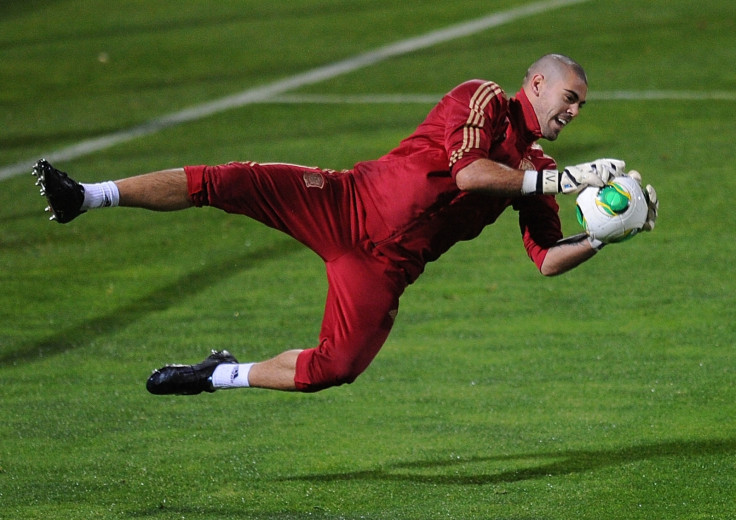 Victor Valdes is eager to complete his move to Manchester United as soon as possible after resolving his contract dispute with Monaco, reports in Spain claim.
Last season the 32-year-old Spanish international agreed personal terms to move to the Ligue 1 side as a free agent once his contract at Barcelona expired in 30 June.
But after Valdes tore the anterior cruciate ligament in his right knee in March, Monaco decided to break their pre-contract agreement with the keeper – as he was expected to be out of action for the first part of the current season.
Valdes urged Monaco to pay compensation for backtracking, but Spanish newspaper Marca claims that after months of negotiations the keeper and the club have finally reached an agreement – leaving the Spaniard free to sign a new deal at Old Trafford.
Louis van Gaal, who gave Valdes his Barcelona first-team debut during his time at the Camp Nou, handed him the chance to complete his rehabilitation at United's Carrington training ground in October.
Even though David de Gea is excelling in the number one role this season, Valdes has been heavily linked with a permanent move to Old Trafford, while van Gaal himself refused to rule out his signing.
"United always has their eyes open," van Gaal said.
"Every human being is special because they all have identities. It's a principle of my philosophy that you have to respect the individual human being. [Valdes is] special because I've worked with him and we've retained our relationship, which is not always the case."
Valdes' agent claimed last week the keeper is almost ready to return to action. According to the reports in Marca, the Catalan keeper was set to earn around £8m a year plus bonuses at Monaco, and the agreement with the Ligue 1 side means they will share his salary with United.