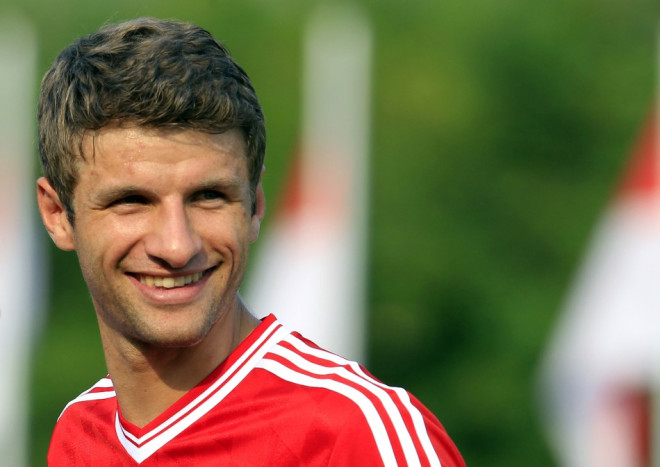 Bayern Munich forward Thomas Muller has played down reports suggesting he will join Manchester United this summer but admits he can make "no guarantees" over his long term future.
German daily Bild claimed on Monday that Muller, 24, is keen to leave the Bundesliga champions in order to link up with former manager Louis van Gaal, who is expected to be confirmed as United's new manager later this week.
The report suggests the Germany international has grown frustrated with Pep Guardiola's tendency to haul him off in the latter stages of games and would jump at the chance to once again work alongside van Gaal, who oversaw his introduction into the first team during the Dutchman's reign in charge in 2009.
Although Muller claims he is unlikely to leave Bayern this summer, his comments will have given United faint hope after he refused to rule out a move later down the line.
"I don't make these rumours up myself, so I don't particularly want to comment on them too much, but I'm definitely not about to jump ship at Bayern," Muller told Austrian newspaper Krone.
"That said, I can't make any guarantees (that I'll stay at the club) for all time."
Suggestions of an offer from United for Muller was further fuelled by quotes from Bayern's chief executive Karl-Heinz Rummenigge, who suggested the forward would need to hand in a transfer request before any talk of a move could take place.
"If a player does not feel comfortable with Bayern Munich he must come to my office. Then you have to talk about it," he was quoted as saying by Bild.
But when asked of Muller's future, club legend Franz Beckenbauer urged the club "do everything to keep him", and prevent one of the club's most highly regarded academy products from moving on.
"Normally I would say we should not stop people who want to move on," Beckenbauer said. "But for Thomas Muller, FC Bayern should fight to win him over, if he really has plans to leave.
"He is the original Bavarian player, and the fans identify with him. I don't see any reason why he should be unhappy in Munich.
"He has had more games on the bench this season, and has not started in the knock tout games in the Champions League, but under Pep Guardiola, he is a very highly respected player.
"So we must do everything to keep him. We should look for another solution, and consider letting him go, only if he categorically states that he does not want to stay."