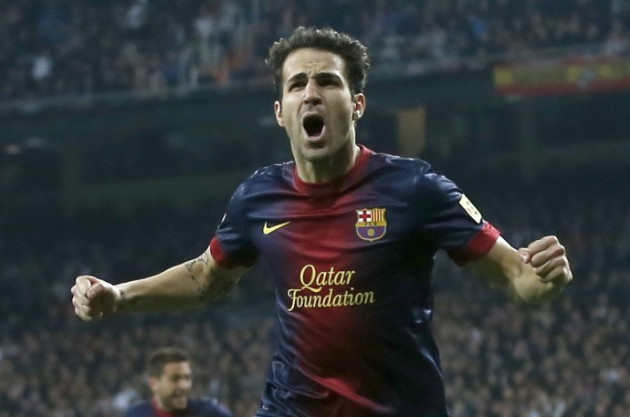 Barcelona midfielder Cesc Fabregas believes that it is too early to write off Manchester United in the race for the Premier League title.
David Moyes has endured a poor start to his Old Trafford career as the English champions are struggling to find the rhythm in the top flight football competition in England. In their last league fixture, United saw them concede a goal in the final moments of the game against Southampton.
The Old Trafford club were made to settle for a draw against the Saints. The result has seen United sit eight in the Premier League table with 11 points after eight games and are eight points behind league leaders Arsenal.
"Ha ha! Yes, with Manchester United there is always talk about a dip, a dip, a dip and yet they always end up there, at the top. You can't trust them. It's always the same," Fabregas told the Daily Mail.
"Ten years ago I arrived in England and I've been 10 years saying, "Look out this year, United might have a dip", and in the end they are always there.' There are a lot of games and we always know with the Premier League that sometimes you are going very well and then you lose two matches and you drop quickly, it's very sudden."
The former Arsenal captain was appreciative of the efforts made by the likes of Thierry Henry, Dennis Bergkamp and Patrick Vieira in helping him to settle quickly at his former club. The Spain international joined the north London side at the age of 16 before returning to his boyhood club Barcelona in 2011.
The midfielder was a part of Spain's 2006 World Cup squad at the age of 19. Fabregas believes that Arsene Wenger's guidance at the start of his career has helped him develop as a player which has resulted in him being warmly embraced by both club and country.
"At 16 I was training with Thierry Henry, Dennis Bergkamp, Robert Pires and Patrick Vieira. I'd played 50 games when I was still 17 and a Champions League final at 18," Barcelona midfielder said.
"Aged 19 I had played in a World Cup final. If I had stayed at Barcelona I would have arrived more slowly, if at all, to those things."