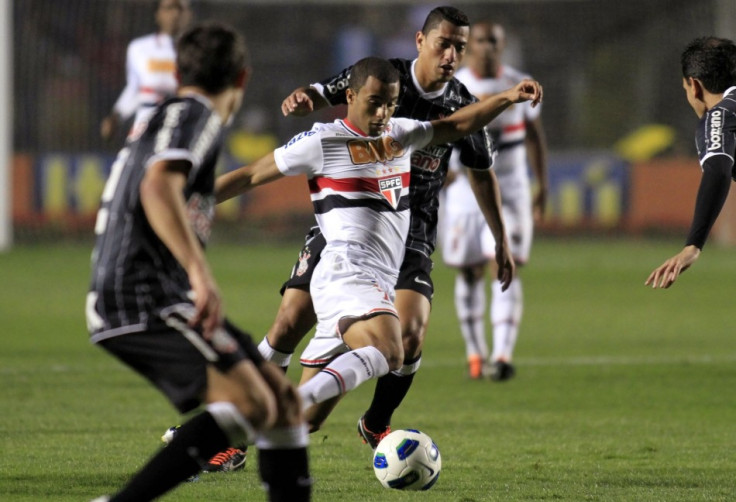 Manchester United remain favourites to sign Sao Paulo midfielder Lucas Moura this summer, after the player's agent revealed that the 19-year-old is still keen on a move to Old Trafford.
A transfer for the Brazilian seemed impossible on Tuesday when agent Wagner Ribeiro claimed that the deal was off as the Red Devils' initial bid was rejected and they were not willing to up their offer to meet Sao Paulo's valuation of the midfielder.
However, the agent now says that Lucas is still interested in a switch this summer and has asked him to keep negotiating with United.
"The player is my boss, I always talk to him. He determines what I do, my objectives. If he says that he doesn't want to leave Sao Paulo, I won't even listen to the offer. He told me to keep negotiating when I talked about Manchester United's interest. It's a great offer. If it was an irrecusable one, he would leave, but he is happy at Sao Paulo too. If he stays there, life goes on," Sky Sports quoted Ribeiro as saying.
Sao Paulo vice-president Joao Paulo de Jesus Lopes also revealed that they are open to further negotiations with United, before the transfer window closes.
"I don't rule out the possibility that in the future we open negotiations with Manchester United as we received them with great courtesy. And there is the possibility they come back with another offer. Their approach was serious. Other teams have also expressed interest for Lucas, but only through the press from their countries," ESPN quoted Lopes.
It is understood that Sao Paulo are also under some pressure to find a quick resolution to the midfielder's future. Lucas' economic rights are currently 80 per cent owned by the club (with the player retaining 20 per cent) but from 1 August the club's ownership share will fall to 70 per cent under the terms of his contract.
United boss Sir Alex Ferguson had earlier admitted that his side is interested in signing Lucas and is trying to bring him to Manchester. The player is currently in England with the Brazil squad ahead of London 2012's football tournament.