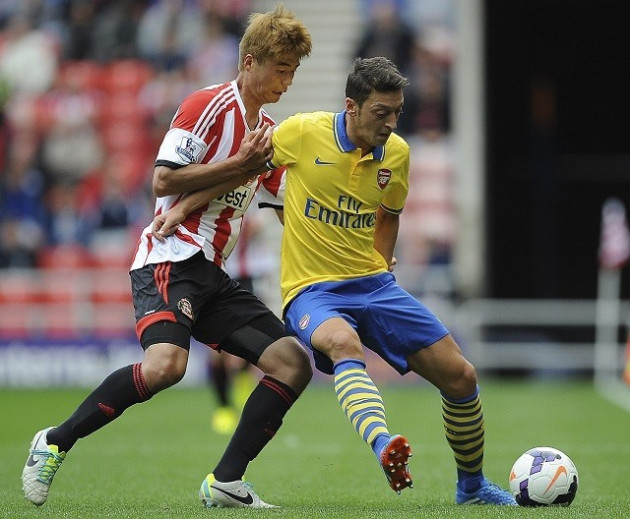 Manchester United manager David Moyes has revealed that the Red Devils did not engage in a bidding war for Mesut Ozil because he was not the kind of player they needed at that time.
Moyes revealed that he already had players of a similar ilk in Shinji Kagawa who is struggling to get a game and bringing in Ozil would not have served the purpose. Instead, the former Everton manager brought in Marouane Fellaini who has failed to live up to his expectations so far this season. The revelation is strange given that his team were firmly in for the signature of Cesc Fabregas from Barcelona and Ozil is equally good, if not better than the former Arsenal captain while operating in a similar position.
However, Arsene Wenger will not hold any grudges against the Scotsman, with his team currently top of the league table and are flying high on the back of some excellent form displayed by the German and his teammates. Ozil will have an opportunity to show Moyes what he has missed out come Sunday, when the two teams face-off at Old Trafford, a fixture which will decide United's title credentials. The 50-year-old also revealed how he has missed out on Aaron Ramsey during his time at Everton. The Welshman is currently the best player in the Premier League and is the main reason behind Arsenal's brilliant start to the season.
"Yeah, I was very close to signing Ramsey at Everton. 'I had him in my house and Arsenal beat me to it. As regards Ozil, we weren't close to buying him but something was mooted (to us). We didn't need that position at the time. It was put to us and it was just something at the time we didn't need. We had Shinji Kagawa and Wayne (Rooney) and people of a similar ilk so it wasn't quite what we required at that time. We were looking at different positions," Moyes said.
Time will tell if Moyes' decision to pass over Ozil was the right thing to do, as United struggle to replicate their league winning form and ironically are struggling in an area where the 25-year-old would have thrived in.