Sir Alex Ferguson believes that Paul Scholes could play for Manchester United for yet another season, with the midfield legend continuing to impress against players half his age.
Scholes has been on fire for the Red Devils since he made a shock return from retirement at the start of the year, and has been widely credited with being the difference in the side's final push for the title at the end of last season.
His inclusion in the United squad in this campaign has been very reliant on not being overworked, but in the 10 appearances the former England international has made, he has been just as lethal with the ball as ever, often making game-changing differences as he comes onto the pitch.
And though Ferguson had thought that this would be his last season, he now believes that the 38 year old could play on into 2013 and beyond if his current form stays consistent.
"He is still the best passer of the ball in the country," the Scot told the Manchester Evening News. "That has not stopped. He still has the desire to play. It is amazing.
"He has had one or two injuries over the years and quit last summer and came back. He made a fantastic contribution last year in the second half of the season.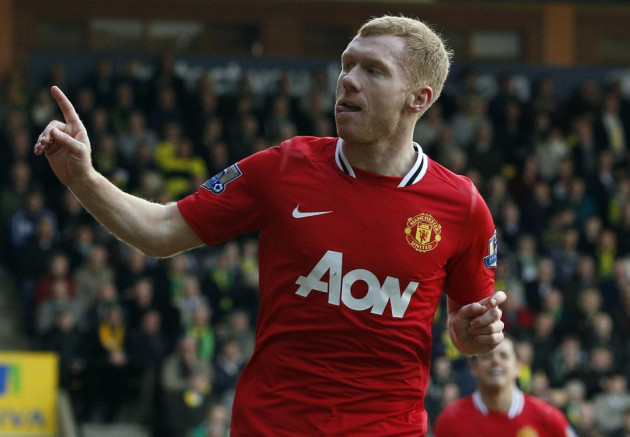 "I just think he should keep doing what he is doing. He will sort it out himself."
Scholes has become somewhat of a legend at United, with the rare one-club man having played two decades for the English giants and winning almost as many trophies as Ferguson himself.
His presence was sorely missed after he announced his retirement in the 2011 summer, and over the Christmas and New Years' period the club were particularly struggling in the midfield as Darren Fletcher was put out of action with a bowel illness.
As United took on cross-town rivals Manchester City in the FA Cup, Scholes made a return to the pitch that shocked even his teammates, and in his first game back he made more completed passes than any other member of either squad.
Since, Scholes helped United move back into pole position to win the title, but their loss to City and a few freak results towards the end of the season, including a 4-4 draw to Everton, proved to be their undoing.
This season though, they are determined to win the title for a 20th time and take it back to Old Trafford.