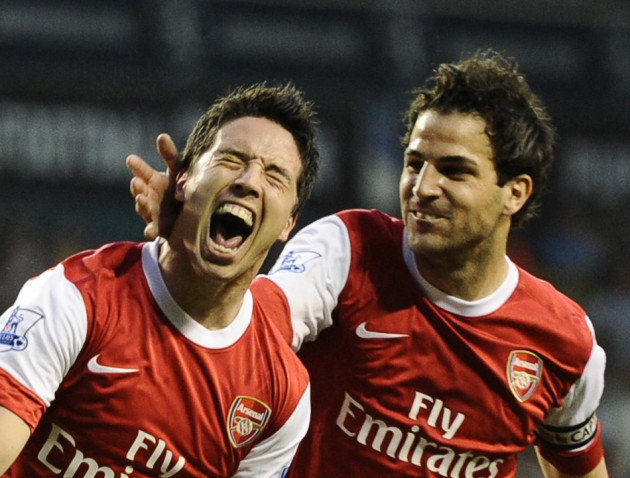 Manchester United have finally confirmed the signing of Atletico Madrid goalkeeper David de Gea on a five-year deal, taking the club's summer outlay beyond £50m.
The Spain Under-21 international joins new recruits Phil Jones and Ashley Young, and the club's spending spree looks set to continue. De Gea's Under-21 colleague Thiago Alcantara is the latest name to be linked with a move to Old Trafford and the club are believed to have made an initial £15m offer, according to the Daily Mirror.
The Barcelona midfielder is viewed as an ideal replacement for Paul Scholes and Sir Alex Ferguson is believed to have submitted an offer for the youngster before his outrageous 45-year free-kick in the Under-21 European Championships this weekend.
Barcelona are reluctant to sell Alcantara to a Champions League rival and any deal would be subject to a buy-back clause, which United are keen to avoid.
French connection
Sir Alex Ferguson is weighing up a £20m for Arsenal midfielder Samir Nasri, the Daily Mirror suggests. The 24-year-old has refused to sign a new contract until the Gunners demonstrate their willingness to strengthen the squad in the close season. Arsenal are believed to have offered the Frenchman a new deal worth £90,000 a week but Nasri is after something closer to the £115,000 a week that Fabregas earns.
The United manager views Nasri as a cheaper alternative to Tottenham's Luka Modric.
Defensive strong-hold
After securing the signature of Phil Jones, Ferguson is set to further strengthen the United back-line and has been linked with a move for Celtic left-back Emilio Izaguirre, in the Telegraph this morning.
The 26-year-old Honduras international had a break-through campaign at Parkhead last season and said,
"Regarding possibilities, I prefer to stay silent as I did when Celtic signed me. This is a job of my agent.
"I have to confirm it's 100 per cent true that Manchester United were following me and were interested in me.
"It was Alex Ferguson directly who made contact with the Celtic directors.
"I am aware also that Manchester United and Celtic agreed for a meeting in July. We have to see what happens if I stay or I go."
Berba-go-round
Meanwhile, Valencia are the latest club to have shown an interest in signing Dimitar Berbatov. The Bulgarian forward is also wanted by Paris Saint-Germain and United will expect to recoup between £14-16m for a player who cost £30.75m in 2008.
And finally, the transfer of Ashley Young could spell the end of Nani's Old Trafford career, according to reports from Spain. The 24-year-old has emerged as an unlikely target for Barcelona if they miss out on Udinese winger Alexis Sanchez.
Nani is reported to be unsettled at Old Trafford and has sought assurances from Sir Alex Ferguson over his place in the side next season. With the return of Antonio Valencia from injury and Young's arrival, reports suggest that the Portugal international could be agreeable to a move away from Old Trafford.
Juventus, AC Milan and Inter Milan are all reportedly interested in the winger who would cost in the region of £26m.