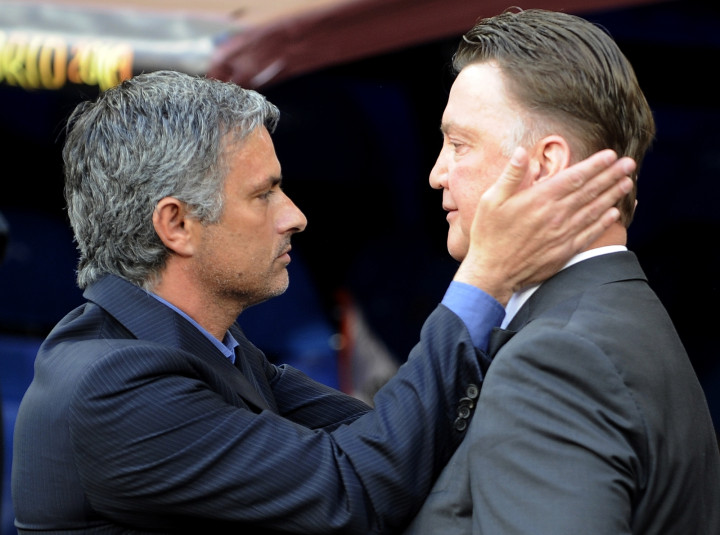 Chelsea manager Jose Mourinho has denied he possesses a special insight into Louis van Gaal's managerial philosophy which could prove crucial upon the Premier league visit to Manchester United on Sunday (26 October).
Mourinho worked as an assistant to van Gaal for three years at Barcelona in the infancy of his coaching career but the pair will face off for just the second time at Old Trafford.
Much of van Gaal's career has been based on a certain footballing philosophy for which he is famous, but despite studying the current United boss for many years while at the Nou Camp, Mourinho doesn't believe he holds the upper hand.
"I don't think so," the Chelsea boss said. "I think top managers, they don't have a style - they use the players they have in the best possible way.
"To speak about Louis van Gaal's style when he was at Ajax or Bayern Munich or AZ or the national team, you see that there are differences."
Such was the confidence van Gaal had in Mourinho he entrusted him with a senior role at the Barcelona B team and then with the first team in the Catalan Cup final in 2000, the first trophy of the Portuguese manager's career.
While resisting to deliver an insight into how van Gaal shaped his career, Mourinho has praised the Dutch coach for giving him those early experiences at Barcelona.
"I took the team but he was in the stands," he recalls when asked about the 3-0 win over CE Matro, 14 years ago.
"I accept that as a gift from someone who was giving everything, he was working hard. He was there to support. He was in the stands. He'd come down at half time to the dressing room to listen to my team talk.
"He didn't want to interfere because what he saw was right. It was good memories."
Mourinho takes his Chelsea team to United on Sunday hoping to defend the club's unbeaten record this season, which sees them top of the Premier League after eight games and favourites to claim the title.
A decade on from Arsene Wenger's Arsenal team going a whole season unbeaten in the 2003/04 campaign, Mourinho has denied his side can repeat those feats, however admits a clean sweep of domestic trophies secured during his first spell at Stamford Bridge is a realistic possibility.
"Last time [2004-2007[ we won a lot. I don't like to compare because I don't think it's good for a team who have won nothing to be compared with a team that won everything.
"At the same time I have to be honest and say that this team is showing great quality in its football and if we manage to win titles it can be better."