Manchester United are no strangers to triumph and tragedy. They know a thing or two about redemption too.
In 1958 one of the greatest teams to ever grace a football field was ripped apart on a snowy night in Munich. Returning from a European Cup tie against Red Star Belgrade, United's plane crashed on the runway, killing 23 of the 44 people on board. Eight players died – including the preternaturally talented 21-year-old Duncan Edwards. He was the emblem of a still-blossoming team known as the Busby Babes, after their manager Matt.
That United team had won two consecutive English league titles, were chasing a third, and threatened to become England's first winners of Europe's top club competition.
The glory that awaited them was delayed a decade by the decimation. Ten years later United finally became the first English team to win the European Cup, but just Busby, Bobby Charlton and Bill Foulkes survived Munich to enjoy the triumph.
This week Manchester suffered another tragedy. This time not an accident, but a deliberate attempt to maim and kill, driven by pseudo-religious fanaticism and political terrorism. Salman Abedi's suicide attack on an Ariana Grande concert left 22 dead and a city grieving. This week has seen a city and a nation attempting to deal with the suffering, the loss, the recognition that it could have been any of us – or worse still, our children – at that concert.
Two days later United played in the final of the Europa League in Stockholm.
Until Monday, United were only playing in this particular cup final because they had to, not because they wanted to. To the uninitiated this might seem a little strange – a club not proud to play in a cup final. But the Europa League is the continent's second-tier club competition. The winners of each country's individual leagues and a few more from the biggest nations (the top four of the English Premier League) play in the Champions League.
Indeed, teams who are knocked out of the Champions League in the early stages are offered the consolation prize of playing in the later rounds of the Europa League. But the winners of the Europa League are offered the biggest consolation of all – a place in next year's Champions League, accompanied by the attendant riches and glory.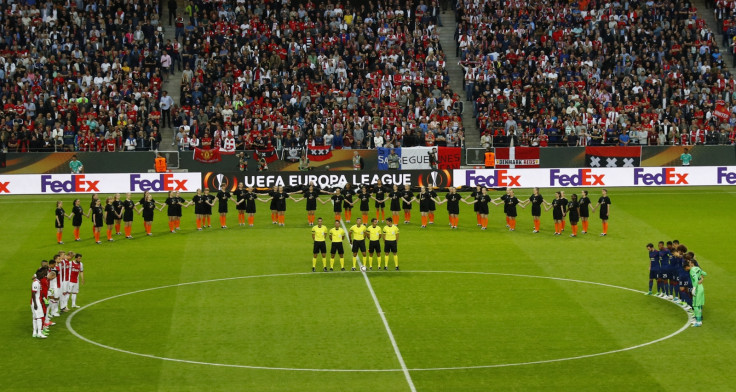 United finished a distant sixth in the Premier League this season and so had to win the Europa League in order to reach the Champions League. The result would decide whether United would be among Europe's elite next season or whether they would be among the also-rans. Whether they would be playing against Barcelona or Celta Vigo. For a big club like United, a place in the Champions League is expected. That it would come via this route was almost embarrassing.
But when 22 children, parents and music lovers were murdered, everything else seemed to matter that much less. What could matter more than the horrifying loss of innocent life? The routine imports of sporting competition seem insignificant in comparison and, at face value, they are. Football is, after all, just a game. Even if it is a particularly lucrative one.
But, as former AC Milan, Chelsea and Real Madrid manager Carlo Ancelotti memorably explained: "Football is the most important of the less important things in the world."
Like pop music, it is a pastime that is carved into our culture and society. A fact that has not escaped the attention of the terrorists.
When Islamist terrorists attacked Paris a year-and-a-half ago, two of the main targets were a concert and a football match. Some 89 people died at an Eagles of Death Metal concert at the Bataclan Theatre. That just four people died outside the France versus Germany game at the Stade de France (and three of them were suicide bombers) merely shows that security is much tougher around sporting events.
Music and football are what we do for fun. To have these threatened is to strike at our ability to enjoy life.
After United's 2-0 victory over Ajax at the Friends Arena in Stockholm the players dedicated the victory to the bombing victims and to the city of Manchester. United's local rivals, Manchester City, had even wished them well in the final with a simple and moving message that they were playing for the city and not just the club: "A City United."
Of course United's Europa League final victory applies barely a sticking plaster over the hurt and injury of the bomb attack. And it is doubtful that a football result meant much to anyone who lost a loved one. But it shows that life goes on and can even be joyous – a simple and important message in extraordinarily difficult times.
When Busby's United eventually won the European Cup in 1968, it showed the power of resilience and resurrection. It could never entirely wipe away the hurt and loss, but it helped a club and a city towards a redemption and happiness that might have felt unattainable at times.
Likewise United's victory over Ajax will not end the pain and suffering of those who have lost loved ones. Indeed, in years to come this particular piece of silverware will mostly be remembered for the wrong reasons – that it came so soon after such a shocking tragedy.
But the football assumed a different sort of significance. It showed that life goes on. And that there is joy to be found. Manchester will not be broken by a terrorist's cruelty.